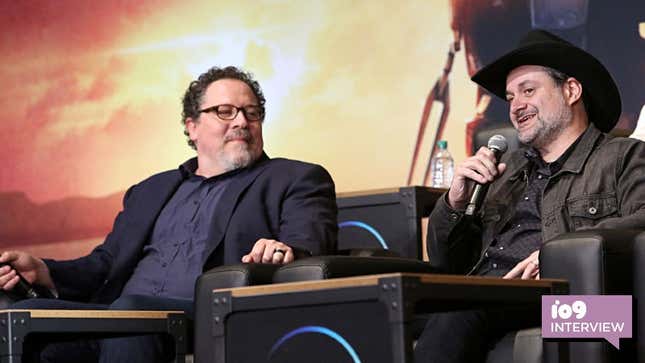 Though 2022 was filled with many fantastic Star Wars memories, very few of those centered on the Mandalorian and Grogu. That changes this week with the season three premiere of The Mandalorian, which picks up both from the end of its second season, which was over two years ago, as well as The Book of Boba Fett, in which both characters appeared in significant roles.
The show's return also marks the return of Dave Filoni and Jon Favreau. The Mandalorian writers-producers worked on 2021's Book of Boba Fett but spent most of 2022 making not just this season of The Mandalorian, but upcoming shows Ahsoka and Skeleton Crew, all of which are set in the same time period—after Return of the Jedi but before The Force Awakens.
With so much Star Wars happening in and around The Mandalorian season three, when io9 sat down with Favreau and Filoni, we wanted to know about all of it. How did the choices made in season two of The Mandalorian and The Book of Boba Fett affect this season—and then, most intriguingly, what's the plan moving ahead with several new shows on the horizon?
---
Germain Lussier, io9: Season two [of The Mandalorian] ended by bringing in Luke Skywalker, and obviously that's not a decision you guys came to lightly. So talk to me a little bit about balancing Pandora's box of fan expectations as well as the potential shrinking of the Star Wars universe, because the show was always about the Mandalorian until that moment.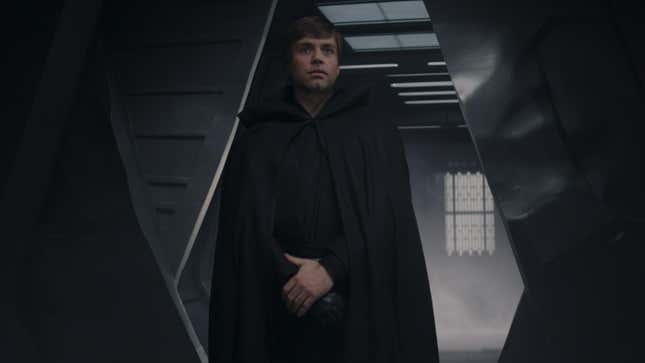 Jon Favreau: Right. The whole first season ... though there were Easter eggs ... we steered completely clear [of direct reference]. But in season two, because we had already established ourselves, we were definitely open to what could or should overlap. And like, for example, there was a lot of discussion about that Mandalorians don't take their helmets off, but yet in The Clone Wars, clearly their helmets are off all the time. And so instead of running from that, we figured let's go right at it and have Bo-Katan. And because Katee Sackhoff is somebody who could play both roles. It seemed like a really fun choice for us. So that was something that was meant to help clarify things.
And with Luke, that was something I remember as we were discussing who it could or should be, and you count who's left and who's out there, and what we understand that character to have been doing, Dave was like, "It doesn't make sense for it to be anybody else but Luke." And so that's why we brought Mark Hamill in while we were editing season one before it aired. We brought him into to a droid voice and that was our way to get him in so that people weren't going to be suspicious if we saw him coming in or out.
We showed him episodes and the reveal of Grogu and all that, and he was up for it. And then it became about how do you actually achieve it, accomplish it, and keep it a secret. But it was all story-driven is my point. It was all about what makes the most sense at any given time. But that's a losing battle if we're going to try to keep outdoing surprises on that level. We're never going to get there. But what we can do is we can maybe have some unexpected choices happen and have interesting reveals. But all of it has to be in service of the story and the character development.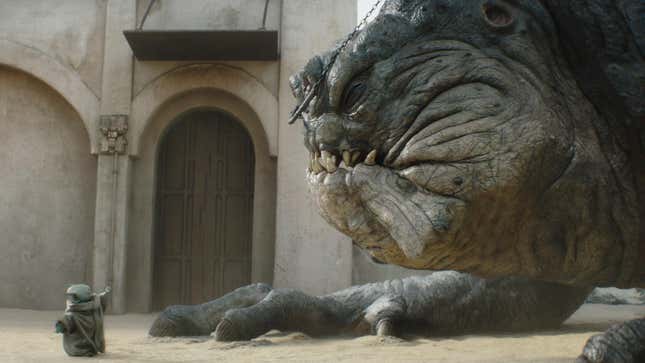 io9: Another surprise was seeing the Mandalorian and Grogu in The Book of Boba Fett and season three of The Mandalorian obviously picks up after those events. What were the positives of having told that portion of their story on that show? Because you feel like, instead of doing an eight-episode season three, it could have been 10 episodes and those are episodes one and two. So tell me about the benefit of doing those episodes and picking up after that.
Favreau: It became clear to me as we were looking at what their lives would be like apart ... I guess you could do Butch Cassidy and the Sundance Kid as like Butch Cassidy a few episodes and the Sundance Kid separately. But they're both bumming. They're both not their best selves without the other person, but yet you want to have time spent apart. And so I was thinking more how you would do it in a novel. You'd be apart from them, but you'd check in. The two years between when the last episode aired of season two and [now] allowed for time to pass. But it did force us to create stories around them, each individually. It just felt like that's where the dramatic momentum was. And yet we felt that time had to be spent apart and we had to show progression, so that when we meet Grogu now we understand why his abilities are different. And also the fact that the Mandalorian has to learn about what he has to do, or can do, to be permitted back into the fold after committing the one sin that was very clear from the first scene of the first episode, that was part of his identity.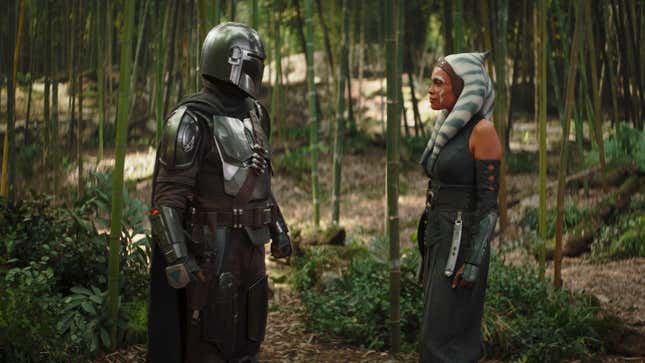 io9: On the earnings call back in 2020, where many of these shows were announced, [Lucasfilm president] Kathleen Kennedy said that you guys were building towards a kind of climactic event. Obviously, things have changed since then. You added Skeleton Crew, you lost Rangers [of the New Republic], Ahsoka is tying in, Jon you said you already wrote season four [of The Mandalorian] to tie in. Are we still leading towards a climactic event, or what's happening there?

Favreau: I think a lot of it's yet to be determined. I know that the story that we're telling is definitely growing to resolution in certain areas. I think a lot is going to key on things that are now being revealed as we're coordinating in the same time frame. What's happening in Ahsoka, as you can imagine with Ahsoka, you're dealing with characters who have a much broader view of what's happening and a richer history. And so from the Mandalorian's perspective, he's only seeing a sliver of what's going on. The audience is going to experience things through other characters' eyes, and I think that's going to speak to what's happening in the larger context of what's happening in the galaxy.
We'll have more from Favreau and Filoni soon, including some interesting insight on the Armorer as well as Filoni's foray into live-action with Ahsoka. Season three of The Mandalorian debuts March 1.
Balancing Fan Expectations in The Mandalorian
---
Want more io9 news? Check out when to expect the latest Marvel, Star Wars, and Star Trek releases, what's next for the DC Universe on film and TV, and everything you need to know about the future of Doctor Who.