With Margaret Atwood's long-awaited novel The Year Of The Flood coming out in a month or so, she's ramping up a promotional blitz, including a spiffy website and T-shirts. She also plans a roadshow with actors and choirs... and plushies?
The Year Of The Flood is not quite a sequel to Atwood's acclaimed novel Oryx and Crake, as I mistakenly wrote before. Rather, it's a thematic continuation of Oryx, with a lot of the same elements. Here's the book's official description, from the new website:

Adam One, the kindly leader of the God's Gardeners – a religion devoted to the melding of science, religion, and nature – has long predicted a disaster. Now it has occurred, obliterating most human life. Two women remain: Ren, a young dancer locked away in a high-end sex club, and Toby, a former God's Gardener, who barricades herself inside a luxurious spa. Have others survived? Ren's bio-artist friend Amanda? Zeb, her eco-fighter stepfather? Her onetime lover, Jimmy? Or the murderous Painballers? Not to mention the CorpSeCorps, the shadowy policing force of the ruling powers… As Adam One and his beleaguered followers regroup, Ren and Toby emerge into an altered world, where nothing – including the animal life – is predictable.
The new website includes T-shirt designs promoting her made-up brands like Chickie-Nobs, Anoo Yoo Spa (which promises "Total reskinning"), God's Gardeners, and ScalesAndTails. And there's an excerpt, which shows us the novel starts with a fairly pastoral view of the world (mostly) without people:
In the early morning Toby climbs up to the rooftop to watch the sunrise. She uses a mop handle for balance: the elevator stopped working some time ago and the back stairs are slick with damp, so if she slips and topples there won't be anyone to pick her up.

As the first heat hits, mist rises from among the swath of trees between her and the derelict city. The air smells faintly of burning, a smell of caramel and tar and rancid barbecues, and the ashy but greasy smell of a garbage-dump fire after it's been raining. The abandoned towers in the distance are like the coral of an ancient reef – bleached and colourless, devoid of life.

There still is life, however. Birds chirp; sparrows, they must be. Their small voices are clear and sharp, nails on glass: there's no longer any sound of traffic to drown them out. Do they notice that quietness, the absence of motors? If so, are they happier? Toby has no idea. Unlike some of the other Gardeners – the more wild-eyed or possibly overdosed ones – she has never been under the illusion that she can converse with birds.
G/O Media may get a commission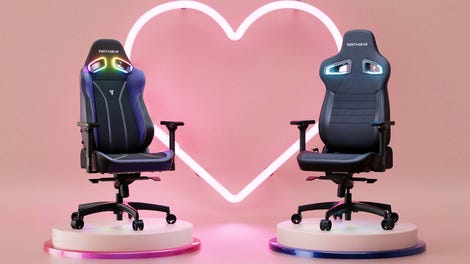 Up to $150 off
Vertagear Gaming Chairs
To promote this new novel, Atwood is planning something bigger than just your usual book tour. Rather, she wants to do a giant theatrical piece, featuring three actors and a choir:
Margaret Atwood has written a one-hour theatrical performance based on the book.

The piece will include three actors and a choir, with Atwood serving as narrator.

The author is scheduled to present the show in six Canadian cities, as well as in the United Kingdom, the United States, Germany and Sweden.

"There have been many challenges, but it's a chance to break free from the traditional structure of a book tour," Atwood said in a statement.

"I felt this particular novel deserved a more complex presentation. It's also a great chance to work with other creative minds and see their interpretation of the story come to light."

Local actors and choirs will be used for each performance, a move the author's publisher says is designed to reduce "the carbon footprint of a travelling cast."
But that's not all — on her Twitter stream, Atwood mulls over the idea of selling stuffed animals of the weird creatures in her book:
Thinking about Boston Biblio's sugggestion — plushies of the genespliced animals in YOTF -tx! Good thought!