Being Luke Skywalker, the Joker, and the Trickster would probably suck if you didn't love pop culture. Thankfully for Mark Hamill, pop culture has been a lifelong obsession for him, and one that he's getting to explore on a brand new web series called Mark Hamill's Pop Culture Quest. io9 talked to Hamill about the show, collectibles, and the joys of getting free Star Wars merchandise.
Hamill has loved pop culture and collecting for as long as he can remember. "I think I appreciate the merchandising more than any of the other [Star Wars] actors because as a kid I loved that stuff," he told us. "I wanted that Car 54 Where Are You? board game and the hand puppets and the Beany and Cecil Talk to Cecil game. I loved the toys and the things you sent away for on the back of cereal boxes, I loved it all."
That love only continued as he got older. "I was a Famous Monsters of Filmland kid," he said referring to the old genre magazine. "I saw King Kong before I was in first grade and it's still probably my favorite movie ever. So I was totally into Ray Harryhausen and all of this stuff."
Hamill collected all kinds of things. He remembers one time he spent $126 to buy a friend's entire Beatles memorabilia collection. But acting was his passion and he had no idea how those two worlds were about to collide in the late 1970s.
G/O Media may get a commission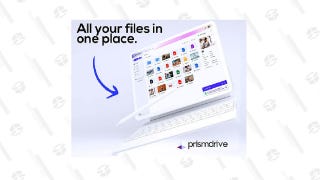 Save 97%
Prism Drive Secure Cloud Storage: Lifetime Subscription
When Hamill was cast in Star Wars, he auditioned without a script. It was after he'd learned that he was playing a character named Luke Starkiller [later changed to Skywalker, obviously] that he finally discovered what he was about to be in.
So I sat down and read this [script], all by myself, in my one-bedroom bachelor pad in Malibu. And I'll never forget it because it was just overwhelming. Even without the John Williams music and incredible special effects, the art direction and all of it. When I read this thing, it was all there. The humor, the scope of it, the adventure, the kind of epic fairy tale fantasy story it was telling, to me it seemed to have everything. I said 'Oh my god I hit the jackpot.'
"It struck me as being a huge toy box," Hamill continued. "I've got floating cars, robots, a light sword, I've got everything. I said to George [Lucas] at the time, 'Can I get on a list where you comp me on the merchandising?' because I thought there was going to be an original soundtrack, a t-shirt, and a poster. I never ever imagined what it became, obviously."
Now, because of his attachment to not just Star Wars but DC (as the voice of the Joker in Batman: The Animated Series and multiple video games) Hamill can combine it all into this new endeavor. In the show, he finds collectors, checks out their collections, and learns all about them.
Pop Culture Quest allows him to explore not just collectibles, but the collectors themselves. "People are passionate about the things they love and I thought this would be a good way to feed that need for collecting that I still have," Hamill said. "It was a chance for me to get in there and see what other people collect. Not only that but meet the people behind the collections, which I've found almost as interesting as the items themselves."
Pop Culture Quest's first episode centers on DC Comics and its collectibles, while the second is about monsters and Power Rangers. io9 is proud to debut the second episode in full:
As you'll see in the episode, Hamill is joined by Pop, a puppet voiced by Greg the Bunny co-creator Dan Milano.
"I love that he just appears with no explanation," Hamill said of his co-host. "I wanted somebody to talk to. And I wanted somebody who was like a kid from the neighborhood who was the ultimate fan and could sort of take my geek level down."
Which is tough because Hamill's geek level is, obviously, pretty high.
The first season of Mark Hamill's Pop Culture Quest will be 10 episodes, airing on Comic-Con HQ. In addition to the episode above, the first episode is on its official page. The rest of the episodes, which will cover sneakers, cars, and more, will be available by subscription only.