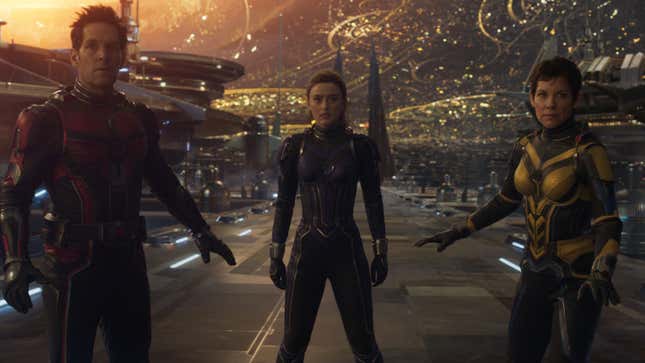 Marvel's latest entry to its superhero empire, Ant-Man and the Wasp: Quantumania, opened last month to mixed reviews from both critics and diehard MCU fans alike. But a polarizing reception is the least of Marvel's worries surrounding the film as the studio tries to pin down the scoundrels that leaked the movie's script on Reddit.

Google's Antitrust Case Is the Best Thing That Ever Happened to AI
As detailed by TorrentFreak, Marvel is not happy about the leaked script, which was posted in January—a month before the film's release—on the subreddit r/MarvelStudiosSpoilers. Last Friday, Marvel's finance affiliate MVL Film Finance submitted a DMCA subpoena application in United States District for the Northern District of California that demands Reddit unmask the leakers.
MVL is specifically requesting all information corresponding to the user MSSmods along with any user involved in posting any copyrighted content between January 15 and February 15 of this year. In the application, MVL points out that Marvel's parent company Disney filed a copyright takedown of the leak on January 21, shortly after it was posted to the subreddit. The script in question is actually a 63-page-long transcript of dialogue from the movie, not the movie's actual script.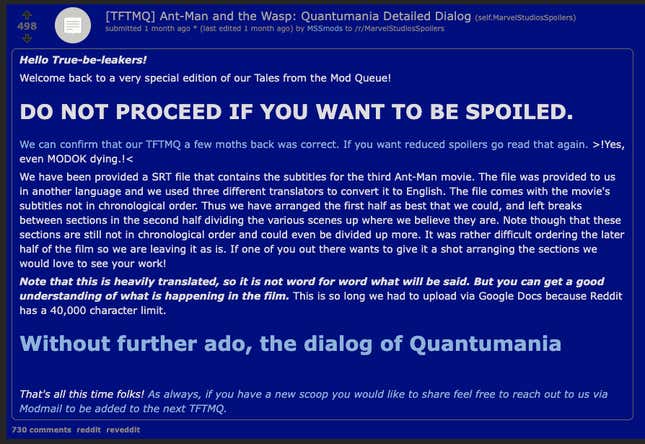 MSSmods published detailed dialogue exchanges from the film in a post titled "[TFTMQ] Ant-Man and the Wasp: Quantumania Detailed Dialog." The thread currently states that the original poster was the one who deleted it, but an archive of the thread reveals that the script was uploaded to Google Docs due to the sheer size of the document, since the subreddit has a 40,000 character limit. As of writing this article, MSSmods hasn't posted since March 10, the day the application was filed by MVL.

"Reddit is committed to protecting our users' privacy. We have rigorous processes in place to assess legal requests and object when appropriate," a Reddit spokesperson told Gizmodo in an email. The spokesperson also pointed Gizmodo to Reddit's guidelines for non-government legal requests and law enforcement.
Speaking of Google Docs, MVL also filed a subpoena application for Google, since the leaked script was posted to one of the company's platforms. As TorrentFreak points out, this is a wrinkle in MVL's case against Reddit, since the offending content wasn't actually posted to Reddit—a link to it was posted on Reddit. Like it's application regarding Reddit, MVL is also requesting the identities of anyone who posted the leaked script.
MVL and Google did not immediately return Gizmodo's request for comment.
Update March 13 4:20 p.m. EST: This article was updated to include a comment from Reddit.