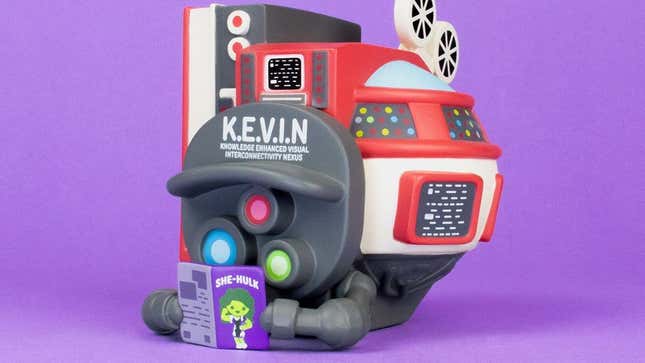 Kevin Feige, president of Marvel Studios, the one who comes to San Diego Comic-Con most years with gobs of exciting news about future projects, won't be at the convention this year. Which is disappointing. But, for fans hoping for maybe another leader of Marvel Studios, artist 100% Soft is happy to oblige. He's bringing to the Con, for the first time ever, K.E.V.I.N.

You remember K.E.V.I.N.—the Knowledge Enhanced Visual Interconnectivity Nexus that runs Marvel Studios in Disney+'s She-Hulk: Attorney at Law. The surprising meta character made a memorable appearance in that show's first season finale and now he's got his very own toy.
K.E.V.I.N. is part of 100% Soft's Megamoji series, which made its debut right here on io9. It measures 3 x 3.4 x 3.8 inches and is available exclusively at 100% Soft's booth—1335—at San Diego Comic-Con. It costs $16, is limited to one per person, and any leftovers will become available on the 100% Soft online store.
That's one photo above, but you can see many more in this slideshow.