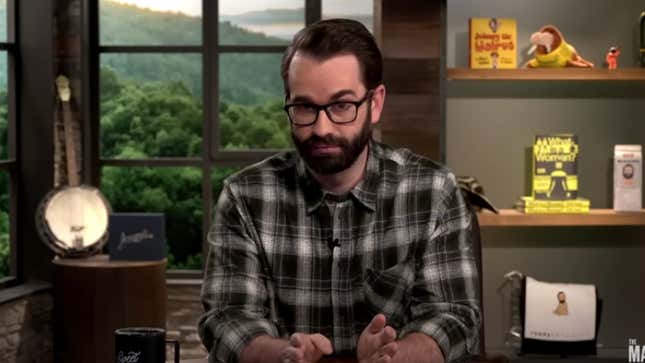 Turns out spewing conservative vitriol across your social media platforms can make you a few enemies. Right-wing personality Matt Walsh's Twitter account was hacked, and the alleged culprit has now said that it was because he had nothing better to do.

How To Remove Followers From Twitter
In an interview with Wired, Doomed—the hacker's alias—told the outlet that he was bored and was "stirring up some drama" when he hacked Walsh's Twitter account last night. Doomed claims he took control of Walsh's social media account and published tweets that included messages like "You Know What You Did, You Are A Closeted Homosexual And Hide Behind Being Jewish," (an apparent dig at Daily Wire host Ben Shapiro) and "Joe Rogan Is A Pedophile." In the process of reporting this hack, Dell Cameron—the Wired journalist who published the story—was permanently suspended from Twitter. (Cameron is a former Gizmodo staffer.)
"The intent was to make funny tweets, as Matt Walsh likes to 'trigger' people," Doomed told Wired. "We caused no financial harm, threatened anyone, [nor] ruined anything." It was merely, he says, "a few silly words on social media."
Doomed explained to Wired that he used SIM swapping, a process in which a hacker would contact their target's mobile carrier posing as them and claim to have a SIM card to activate on their account. The carrier will then reassign a target's phone number to the SIM card the hacker has, granting the hacker access to a plethora of the target's passwords and two-factor authentication. Doomed claims that Walsh's phone was hacked with help from an insider, and he also got access to Walsh's Google and Microsoft accounts.
Walsh, a Daily Wire host himself, has so far made a career of being an online contrarian spouting right-wing ideologies in a bid to piss off liberal users and personalities. While Walsh has been skulking around the Internet for quite some time, he rose to prominence in June 2022 after his documentary titled What is a Woman? went viral. In the documentary, Walsh allegedly misleads and baits interviewees into reinforcing his weird obsession with gender politics and womanhood. It comes as no surprise that the doc was released at the beginning of Pride Month. Walsh was probably just trying to stir up some drama, right?