Unusual mashups have resulted in some remarkably popular toy lines over the past few decades; think cars + robots, ninjas + turtles, and cabbage + dolls. The latest comes from Lego, whose new Nexo Knights line combines all the fun of medieval weapons and castles, with futuristic technologies.
What kid doesn't love castles, suits of armor, or catapults? But imagine a knight who rides around on a shield that turns into a hoverboard. Or an armored princess who lives in a castle that rolls around on tank treads? The new Nexo Knights line takes the best parts of the past and future and mashes them all up into fourteen new sets that will be available starting on January 1st for between $10 to $100.
At the New York Comic Con that just got under way, Lego has actually revealed two of the upcoming Nexo Knights sets including The Fortrex, the aforementioned castle that rolls around on tank treads, and a terrifying looking siege machine manned by the line's main bad guy: Jestro.
But what's a modern toy line without some kind of smartphone or tablet connectivity? When the new sets are finally available 'kids' will also be able to download an accompanying Nexo Knights app that features a holographic wizard called Merlok who helps them collect special virtual powers for the various characters.
G/O Media may get a commission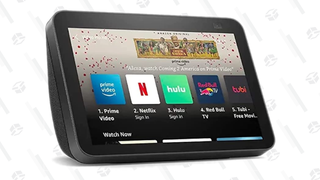 Special codes can be found online, in the various sets, in print ads, and even on a new Lego Nexo Knights animated series that will start airing in December. They can be scanned into the Merlok app which then unlocks more than 150 different collectible shields which each represent a different special power. The actual Lego Minifigs included with each set of course don't do anything differently, but the app is a fun way to help augment a child's imagination.
Adults who grew up playing with Lego certainly have very fond memories of the line's wonderful medieval sets. They were some of the first to capitalize on a specific building theme instead of leaving everything to a child's imagination. And now that those adults have kids (who are probably addicted to technology) the Nexo Knights should give them a common interest come playtime. [Lego]
---
You're reading Leg Godt, the blog with the latest Lego news and the best sets on the web. Follow us on Twitter or Facebook.