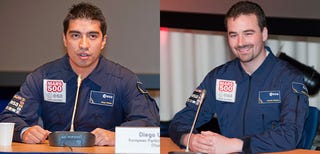 Later this year, these two (pretend) cosmonauts, along with four other as-of-yet-unnamed crew members, will embark on an historic, 500 day (pretend) mission to Mars, evaluating man's ability to cope with the taxing journey to the Red Planet.
In October, the European Space Agency put out the call for Russian-speaking volunteers who were interested in taking part in the (pretend) mission. Romain Charles, from France, and Diego Urbina, a Colombian-Italian, are the first two (pretend) cosmonauts selected for the (pretend) trip, dubbed Mars500.
The crew will be locked in a (pretend) space capsule in Moscow with food and supplies, where they will remain for 18 months. Halfway through the (pretend) journey, some of the crew will make their way into a (pretend) Mars lander and execute a walk on a (pretend) Mars surface. Perhaps there they'll run into another group of (pretend) cosmonauts who recently set out on their own (pretend) Mars mission.
Fortunately, the Mars500 crew members will be given the option to (pretend) return home at the halfway point if they (really) go crazy. I'd say it's all but guaranteed—that's a whole lot of cognitive dissonance. [Fast Company]