Check out videos for The Amazing Spider-Man, Abraham Lincoln: Vampire Hunter, and Prometheus. Jenna-Louise Coleman starts Doctor Who filming. Charlize Theron promises Max Mad: Fury Road is happening real soon. Plus a video game star joins the Star Trek sequel!
Spoilers from here on out!
Top image from Abraham Lincoln: Vampire Hunter.
The Dark Knight Rises
Here are some new promo images. [/Film]
And here are some banners. [/Film]
---
The Amazing Spider-Man
Here's a TV spot. [Newsarama]

Here are some promo images, including a nice shot of the Lizard. [Coming Soon]
---
Thor 2
Casino Royale villain Mads Mikkelsen is reportedly in talks to play an unspecified villain in the Thor sequel. Mikkelsen previously immersed himself in Norse legends as the star of Drive director Nicolas Winding Refn's film Valhalla Rising. Mikkelsen is the first new cast member attached to the movie, joining the confirmed returning casting members Chris Hemsworth, Tom Hiddleston, Natalie Portman, Jaime Alexander, and Idris Elba, with more likely to join sooner or later. [Variety]
---
Iron Man 3
Ashley Hamilton, whose credits include such cultural touchstones as Beethoven's 2nd and Sunset Beach, has reportedly been cast in a minor villain role as Firepower, which has seen various incarnations in the comics but is essentially another guy in an experimental power suit. He joins Ben Kingsley and Rubicon's James Badge Dale among the movie's villains, though his role will pretty much definitely be much smaller than either of theirs. [Variety]
G/O Media may get a commission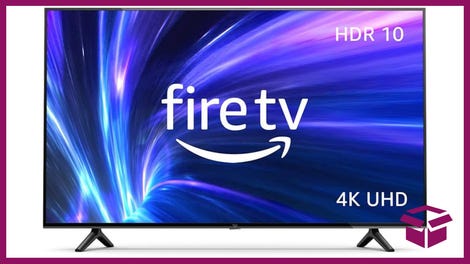 42% Off
Amazon Fire TV 50" 4K Smart TV
Also, Jon Favreau tweeted a picture of Happy Hogan's chair on set, confirming that just because he isn't directing the movies any more doesn't mean he's left the franchise entirely. [Coming Soon]
---
Star Trek 2
Uncharted and Young Justice voice actor Nolan North confirmed that he has a live-action cameo in the Star Trek sequel. [/Film]
---
Prometheus
Michael Fassbender gives the latest take on just how Prometheus connects back to Alien in ways a mere prequel couldn't possibly hope to:
What I will say is that the first Alien film had an intelligent, slow-burning, sinister element to it — there's this feeling in this. Before I read the script, I thought the concept had already been exhausted. I'd seen so many of them — AVP: Alien Vs Predator, Alien here, Alien there. But I can tell you there's no Predator. I came dressed one day as the Predator and was like, "What do you think?" I tried to get him in [laughs]. But it's amazing. It's really about strong characters again. And I love the fact that Noomi [Rapace] is a strong leading female, like Sigourney Weaver was.
He also explains what he found so fascinating about his character, the android David:
What I thought was interesting was him being programmed to react in a certain way. And part of that is him blending in with humans, so does an ego develop to facilitate that? He's there to serve them, but he's sort of disliked because they think he might be superior to him. Or just different. Because humans have that thing where they're like, "Something's different? Persecute!"
Finally, he compares his character to Ian Holm's android in Alien:
He's less developed than Ian Holm [laughs]. That's the way I'm going to describe him from now on. Ridley said, "He's like the butler," but there's a vanity to him. And he always has the answers so there's a swagger to him, too. In fact, I think he might be kind of creepy. I do creepy well.
In this video, costar Logan Marshall-Green discusses his character Holloway. You can also check out a clip from the movie here. [Shock Till You Drop]

Here's another featurette. There's one more at the link. [Coming Soon]

---
Catching Fire
I'm probably just going to stick with the short version of the title, but it's worth pointing out that Lionsgate is officially calling this The Hunger Games: Catching Fire, as we all pretty much could have predicted they would. [Shock Till You Drop]
---
Abraham Lincoln: Vampire Hunter
Here's a red-band, R-rated trailer. [Shock Till You Drop]

---
Mad Max: Fury Road
Charlize Theron says George Miller's long-delayed fourth Mad Max movie, in which Tom Hardy takes over for Mel Gibson for oh so many reasons, should start shooting June 2... although she knocked on wood immediately after that pronouncement. She also explained why the delays should actually help the final film:
"We've had a lot of time to talk about it and we had some rehearsal time when we were going to [shoot the movie]. I think it's been good. I think you have to find the positive about something like this, waiting that long to do a film."
---
Predestination
Sony has reportedly acquired the rights to this feature length adaptation and expansion of Robert Heinlein's uber-classic time travel short story "—All You Zombies—." The movie is directed by Daybreakers's Michael and Peter Spierig and reteams them with star Ethan Hawke as "a Temporal Agent sent on an intricate series of time-travel journeys designed to ensure the continuation of his law enforcement career for all eternity" and will shoot in Australia next year. [Shock Till You Drop]
---
G.I. Joe: Retaliation
The delay of the movie's release date from next month to next March definitely isn't a good thing, but at least the filmmakers are reportedly making the most of the extra time. Star Dwayne "The Rock" Johnson says that on top of post-converting the movie to 3D, they will be shooting some new scenes designed "to enhance 3D." So, yeah, basically this is a gigantic mess, and it's probably more respectful to just stop looking at this point. [/Film]
---
Breaking Dawn: Part 2
Shameless actor Noel Fisher, who plays the vampire Vladimir in the last Twilight movie, discusses his experiences working on the movie:
"It was a lot of fun. It's such a massive cast, and what was really cool about that experience was that the cast was really split because in this part of the book and the second movie, Stephenie Meyers's world really expands and you get to meet a lot of new people. So, there were a bunch of new, kind of rookie people added to the franchise, including myself. Then there were all these people that have been there for years and years. So, it was a really nice mixture of all the veterans welcoming everyone in a really lovely way and all the newbies kind of getting to hangout and we're all introduced to the world at the same time. It was just a really good feeling on set and I walked away with a lot of good friends."
And here are some new character posters. [MTV]
---
Doctor Who
Filming has begun for the 2012 Christmas special, which is the big introductory episode for Jenna-Louise Coleman as the Doctor's new companion. Coleman has been spotted on set at the medieval manor of Plas Llanmihangel in the Vale of Glamorgan, which is in Wales, just in case that wasn't clear from its awesomely Welsh name. There's a fairly blurry, probably out-of-costume photo of her arriving on set, but the main takeaway here is that they're shooting inside a medieval manor, which might well support the rumors that the episode features a spooky haunted house. [Den of Geek]
---
Game of Thrones
Robb Stark actor Richard Madden discusses his character's strengths and weaknesses, and what they might mean for him going forward:
I think those are the same things. His biggest strength is his honesty and his passion and his heart. It comes from such a raw, emotional, grounded place. That also turns into one of his weaknesses because sometimes that overwhelms his decision-making process of what to do. He's had so much pressure put on him. He's really taken up that mantle and run with it, but also coming with that is that now he has to keep on making decisions that not everyone is going to be pleased with. He wants to please everyone, but he can't.

Now that Robb has stepped up into this leadership position, what's his relationship with his mother Catelyn (Michelle Fairley)?
It changes as the season goes on. They're both being pulled in different directions. Catelyn doesn't understand that, you know, we started this war through the revenge of my father and trying to get my sisters back to safety and keep my brothers safe. That is where the war started, and that's where Catelyn's heart still lies, but for Robb now, he's got 20,000 men and it's their mothers, wives, daughters, sons that he has to care for now, not only his own. So that's where the fracturing starts because ... he's got to care about all those men as much as he cares about his own family.
[TV Guide]
---
True Blood
Here's a promo for the upcoming season five.

And here's a rather descriptive casting call for episode eleven, reportedly entitled "Finally":
[MALE PRISONER] 20s to 40s, FULL FRONTAL NUDITY REQUIRED. He is a prisoner in a dire situation. CO-STAR
---
Eureka
Here are some promo photos for next Monday's episode and the seventh overall, "Ex Machina." [SpoilerTV]
And here are some for episode eight, "In Too Deep." [SpoilerTV]
---
Falling Skies
Here's a description for the seventh episode of season two, "Molon Labe":
Ben is betrayed by someone he thought he could trust; Tom captures another hostage; Weaver offers Matt a job; members of the 2nd Mass are trapped in a basement.
---
Additional reporting by Ben Vrignon and Charlie Jane Anders.