We are at the Hotel Catalonia Plaza, here in Barcelona, listening to Steve Ballmer sing the virtues of the new Windows Mobile 6.5. Update: It's over. The new user interface looks great.
Deadly Mississippi Tornado Kills More Than 2 Dozen | Extreme Earth
4:02 PM: OK, it's wrap. Windows Mobile 6.5 looks nice, people. The UI is very nice. I'm off to get some food and wine. I'm sure it will look even better in 10 minutes.
4:01 PM: Steve is replying, but you can tell he wants to crack this guy's head open. They just announced Windows Mobile 6.5 and this guy is asking about 7 already?
4:00 PM: "When is Windows 7 coming out?" some smart guy asks.
3:59 PM: People with weird accents asking weird useless questions. I think Steve Ballmer is going to start rampaging around. I bet he had a lot of iberian ham sandwiches for breakfast. Stuffed with babies.
G/O Media may get a commission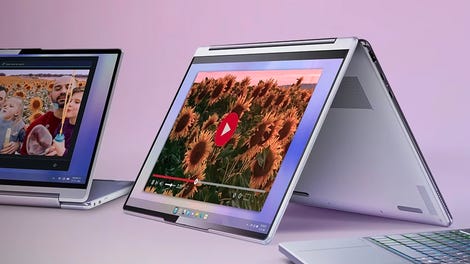 up to 70% off
Lenovo Spring Clearance
3:52 PM: Questions now: Why the delay in the new Mobile Explorer and has this hurt Windows-in favor of Opera? "We did the rendering in 6.1, and 6.5 has the same user experience of the PC."
3:50 PM: Steve is back on stage. He is saying that they are bringing the same tenacity and vision of Windows 7 and Windows Live to Windows Mobile.
3:47 PM: Ives Maitre, from Orange, coming now on stage. He's going to tell us a secret. I can't understand him. His accent is even worse than mine, but it's some kind of joke about Steve Ballmer. Whatever.
3:43 PM: Skott Ahn, president of LG, now on stage for another session of karaoke improv. They are talking about a new partnership between MS and LG. "We will create joint R&D and marketing teams".
3:40 PM: Peter Chou keeps talking. If you buy the new HTCs now, you will be able to get Windows Mobile 6.5 available for free. Some people applaud. The rest are sleeping. I'm still looking for my sandwich.
3:38 PM: Steve Ballmer is back on stage, welcoming the HTC CEO-the guys who spilt Windows Mobile 6.5 today. I think Steve can actually eat this guy alive in one bite.
3:36 PM: Blah blah blah. Loads of corpospeak on the video. I need an iberian ham baguette. Where's my iberian ham baguette?
3:33 PM: Talking Windows Market now. Not many details here. Time for a video with companies endorsing the whole Windows Mobile ecosystem. Samsung, HTC, LG, Toshiba... all these people talk Engrish, like me.
3:31 PM: The new contact screen shows photos of the people.
3:29 PM: Now they are demonstrating the synching of the phone with Microsoft's MyPhone backend, which is like a fugly version of Apple's Me.com. Syncs photos, images, contacts... in fact, all data is backed up to MyPhone.
3:27 PM: From the phone they started a chat, with multiple people. First they added someone using a PC, then they bugged someone who was playing Gears of War in an Xbox 360.
3:25 PM: They are stressing the fact that the experience is the same as the Windows PC. They are now talking about how Windows Mobile 6.5 has Flash built-in.
3:23 PM: All Windows phones will now have a physical start button, with the Windows flag on it. It will give you access to the Start screen. The Start screen is different than the first home Zune-like screen.
3:20 PM: "All the info you need is all on the home screen." It's quite cool: There's a long list and by sweeping your finger over the titles, you can see information about that category. So if you pass your finger over "Mail", you see a summary of what's pending, and you can access full mail on one click.
3:19 PM: They are now explaining the changes in the Windows Mobile 6.5 interface. The home screen looks like Zune, with a list of categories, "with all the info yhou really need to access quickly in your phone". Very simple and nice. I like it.