When MODOK rears his ugly head, there's only one team of heroes you can count on to save the day: the Avengers. But Tony Stark and Steve Rogers don't just lead the coolest team, but the most lovable team in the Marvel universe. (Sorry, X-Men.) And tons of artists have captured the surpassing cuteness of the Avengers, with some ridiculously sweet fan art and shwag.
Check out a gallery of our favorite cute Avengers art below.
Top image: Avengers Go The F*ck to Sleep by Sekra
The Avengers, Winnie the Pooh Style by Charles Paul Wilson III, via Technabob
G/O Media may get a commission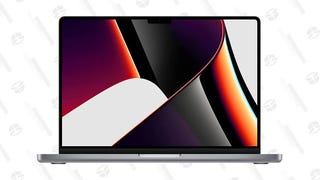 Save $300
2021 14" 1TB MacBook Pro
Avengers Vs. X-Men Babies by Skottie Young, via Super Punch
Cat Avengers by Sara Richard
Avengers T-shirt Design by Dean Trippe, via Super Punch
Gender Swapped Avengers by Noelle Stevenson, via The Uniblog. Tons more Avengers art here.
Lil' Avengers by Laura Truxillo on Deviant Art, via Fuck Yeah It's The Avengers
Loki's Playthings by Laura Truxillo on Deviant Art
The Cat Avengers by Katie Cook, via Super Punch
The Avengers Noggins by Greg Ham
Avengers Assemble by Fruits Basket Head
The Avengers trade costumes by Cakegun on Tumblr, via Iron Fries
The Avengers Breakfast Club by Ninjaink on Deviant Art, via Popped Culture
Nick Fury's Boy Band by Barrypresh on Deviant Art, via The Uniblog
Chibi Avengers by Rebotica on Tumblr
Avengers Break by Dr Warumono
Hulk and Hawkeye by Noelle Stevenson, via The Mary Sue. Tons more at the link.
Kid Avengers by Ani Bester
Baby Avengers by ElDelgado on Deviant Art
Cute Avengers Art Print by Loopzart on Etsy
Ickle Avengers by Little Star Lolo on Tumblr, tons more at the link.
Chibi Avengers by Chibi Engineer
Chibi Avengers by AnauchihaB
Avengers Nap Time by Chibi Engineer
Avengers Vs. X-Men (dance contest!) by Barrypresh
Halloween Avengers by Spazzcase
The Avengers KB by KenjiArts
Hello Avengers by 4unt3r
Loki the Pudding Master by Liaartemisa
Baby Avengers being protected by S.H.I.E.L.D., by Cara McGee
Wild West Avengers by Clazziquai
Additional reporting by Jennifer Griffith-Delgado.