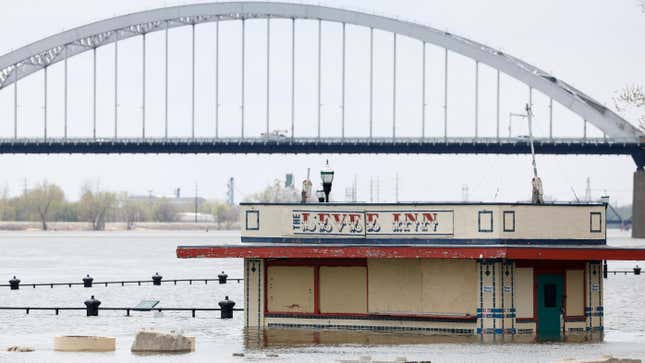 The Mississippi River is overflowing and flooding riverbanks and roads in states across the Midwest, including Minnesota, Wisconsin, and Iowa.
The Mississippi River is Drying Out | Extreme Earth
On Tuesday, the Iowa DOT confirmed that there are road closures along the Mississippi River due to the flooding. Some roads near the river are expected to flood later this week, too. The state's Department of Homeland Security and Emergency Management urged Iowans that live near the river to keep an eye on updates from officials and prepare for possible evacuation if flooding continues to spread.
Iowa Governor Kim Reynolds issued a disaster proclamation yesterday for multiple counties alongside the river. The governor also asked various state agencies to monitor the river's conditions in hopes of providing resources to the affected communities.
The winter storms that dropped snow across the Midwest have especially fueled the recent flooding. Melting ice this spring means there's more water feeding into the region's waterways. "If it remains wetter, and we have more rainfall and thunderstorms, that could cause the river stages to stay elevated for a longer period of time than say if we get into a more prolonged dry spell which would allow the river levels to come down from these crests more steadily going through the next month or so," meteorologist Jeff Makowski told Wisconsin Public Radio.

Videos uploaded to Twitter show a rushing river across multiple states.
Just last fall, the Mississippi River's water levels were much lower due to widespread drought throughout the United States. A parish community near New Orleans was warned last November that the lower, slower moving water meant saltwater had invaded their drinking water. Officials were worried about the extra sodium for people with high blood pressure and other health challenges.
And in mid-October, low water levels disrupted barge traffic and capacity. The Coast Guard reported that eight barges had run aground, getting stuck in sand and mud that they would have easily sailed over in 2021. Barges that were supposed to bring agricultural supplies up into the Midwest had to carry lower capacity, disrupting the supply chain last year. Low water levels also disrupted recreational activities as marinas saw low levels and cruise ships had to change routes to avoid running aground.
Want more climate and environment stories? Check out Earther's guides to decarbonizing your home, divesting from fossil fuels, packing a disaster go bag, and overcoming climate dread. And don't miss our coverage of the latest IPCC climate report, the future of carbon dioxide removal, and the invasive plants you should rip to shreds.