Smartphone makers like Apple and Samsung spend millions of dollars to improve the quality of the cameras on their mobile devices, only for users to slap a vintage filter on their shots before sharing them on social media. The Tuner promises to give modern camera lenses a retro look by recreating the flaws of classic lenses responsible for their unique aesthetics that produced footage with a look you just can't recreate in post-production.
John Deere Owners Rejoice... Kinda
Technology has been moving toward finding ways to deliver media to audiences with as much clarity, resolution, and color fidelity as possible. At the same time, the popularity of vinyl records, a distinctly analog medium full of unique flaws, has been exploding, and we've even seen older technologies, like Polaroid's instant cameras, return from the grave. The quality of instant film, as we found when reviewing the Polaroid OneStep 2 six years ago, is kind of awful, but that's actually a big part of its appeal. It has a unique analog aesthetic that makes photos from the camera look distinct, and arguably, more real, than the seemingly perfect images our smartphones can now capture.
Older films have their own distinct look as a result of a variety of different factors, including the camera technology of the time, the film stock, and the lenses used. Making camera lenses is an exacting process and one that lens makers have gotten much better at over time, resulting in the beautifully sharp imagery modern cameras can capture.
Older lenses often suffered from minor optical flaws that produced aberrations, resulting in footage that looks nowhere near as clean or crisp as it does when captured with modern hardware. But decades later, many filmmakers are actively seeking out those vintage aesthetics. They want their footage to look more analog, and so will spend thousands of dollars either buying or renting sets of vintage camera lenses. The Tuners, created by Module 8, a company that includes an Academy Award-winning lens designer, can recreate the look of several older lenses, but without blowing a production's budget.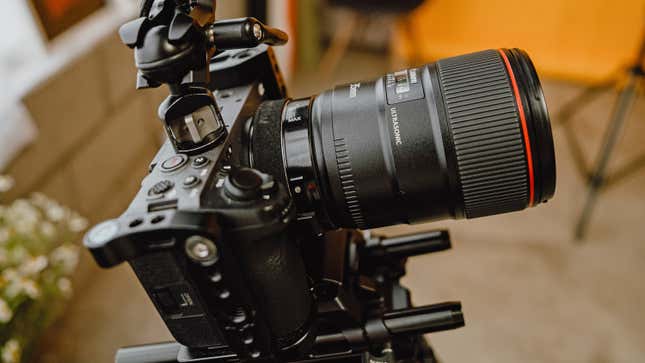 Module 8 is launching with three tuners to start, which, unlike standard photography filters, are designed to sit between any EF lens and the body of any mirrorless camera—not on the end of one. They're also not complete lens replacements—you'll still need additional glass for focusing and zooming—but the Tuners introduce optical flaws and aberrations that will give footage a unique look that's very hard to fake using digital post-production tools.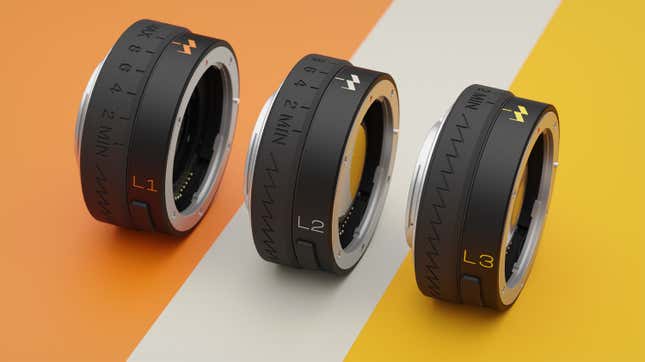 The L1 Tuner produces a look inspired by a lens called the Super Baltar, with a look that is "soft and warm with a lower contrast" to help bring a softened appearance to digital footage. The L2 Tuner replicates the look of a Canon K-35 lens, which was used to film classics like Rocky, while the L3 Tuner is designed to introduce "the vertical/horizontal depth of field effects" produced by vintage anamorphic lenses, which deliberately stretched images captured to film.
But while Module 8's Tuners will be cheaper than trying to find vintage lenses in good working order, their pricing is still targeted at those who have a decent filmmaking budget, or who will be immediately able to make money from them. Launching through a Kickstarter crowdfunding campaign, each Tuner can be 'pre-ordered' with a $999 contribution (delivery is expected to be this August) or even cheaper for those who buy two or three of them bundled together. But the regular MSRP will be $1,999 for each tuner when the Kickstarter is over.
Making lenses is still a tricky business, so as with any crowdfunded product, you should anticipate delays as to when the Tuners might actually be delivered to backers. But Module 8 is partnered with a company called Moment which has lots of experience when it comes to producing lenses and camera accessories, so as Kickstarters go, there's maybe a bit less risk with this one. But when it comes to the crowdfunding approach, there's always going to be a risk, and it falls on the backers.