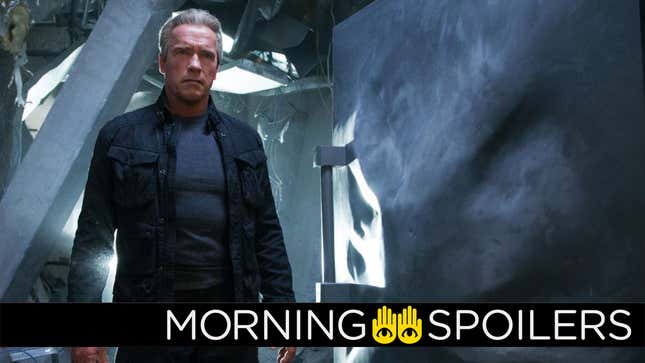 Wonder Woman 2 gets an additional writer. Alicia Vikander talks about playing a legend in Tomb Raider. New behind-the-scenes footage from Thor: Ragnarok hints at the return of an iconic weapon. John Landis doesn't think a new American Werewolf in London is a good idea. Plus, new footage from Supernatural. Spoilers now!

Giving Optimus Prime a Proper Back Story | io9 Interview

Terminator
An Eventbrite description of an upcoming event with James Cameron and Tim Miller hints that the two are working on a Terminator project together.
Join filmmakers James Cameron and Tim Miller on the Paramount Lot for an exclusive conservation with The Hollywood Reporter's Matt Belloni about their collaboration on the upcoming Terminator.
It's hard to tell if this is the professed new movie to allegedly "reboot and conclude" the series that Cameron was planning on doing with Miller or something else, however, but it seemingly backs up that months-old rumor.
---
Wonder Woman 2
The Expendables' Dave Callaham has joined the film to co-write the script with returning director Patty Jenkins. [THR]
---
New Mutants
Josh Boone announced on Instagram that New Mutants wraps filming this week.


---
Avengers 4
Vision does some paperwork in a new set photo taken by Mark Ruffalo.
---
An American Werewolf in London
Speaking with Collider, John Landis revealed he thinks it's a bad idea for his son, Max Landis, to remake his beloved werewolf movie.
I advised him not to do it. I think he's putting himself in a bad position. My son is brilliant, he really is, and he wants to do it. So what am I going to say? No? I know it won't be as bad as 'An American Werewolf In Paris,' which was shit. So, I don't know.
---
Spawn
Also speaking with Collider, Jason Blum confirmed the new Spawn will be a low-budget affair.
This Spawn movie is a kind of superhero movie, but a very different kind of feeling superhero movie. I like the idea of low-budget superhero movies. It's cool.
---
Thor: Ragnarok
ET has a set report—a shot from which seemingly shows Chris Hemsworth in his post-gladiator get up performing a motion that looks like he's summoning Mjolnir, indicating (unsurprisingly) Thor could get his trusty hammer back by the end of the film.
---
Tomb Raider
Alicia Vikander spoke to THR about playing Lara Croft.
She's a very loved character, like you said, and I grew up playing the games, and I was thrilled when I was fifteen and I saw the films with Angelina Jolie. She really made her into an icon with those films. The video game went through quite a change and it got rebooted in 2013, and it's very much an origin story. And it's kind of the next door girl taking on a journey of becoming the action hero that we very much know her to be. So, I definitely think there's a lot of elements there, both honoring the character that people know of and a lot of new elements that they will hopefully be surprised and engaged to see.
---
Scream
Keke Palmer, RJ Cyler, Giorgia Whigham, Jessica Sula and Guillian Yao Gioello have joined the cast of MTV's Scream reboot.
Palmer will play Kym, a social activist, while Cyler has been cast as star running back, Deon Elliot. Whigam has joined the cast as Beth, a goth tattoo artist, while Sula is Liv, the new girl at school struggling to fit in. Gioello will play Manny, the openly gay "smartest man in the room", according to THR.
---
Supergirl
Chad Lowe has been cast as Thomas Coville, a charismatic cult leader who worships Supergirl. He'll appear in episode four of the season, titled, "The Faithful". [Entertainment Weekly]
---
People of Earth
TBS has renewed People of Earth for a third season. [TV Guide]
---
Agents of SHIELD
Clark Gregg will direct his first episode this season.
---
Lucifer
Tom Welling debuts in the synopsis for episode 1 of the new, "They're Back, Aren't They?"
After a confused Lucifer wakes up in the middle of the desert with his wings back, he recruits the help of Chloe to help figure out what happened to him and why. Upon doing their own research, they come across a crime scene that could be tied to Lucifer's kidnapping. When the Lancaster Police Department get involved, newcomer Lieutenant Marcus Pierce (Tom Welling) fails to make a great impression on everyone with his stern demeanor. The investigation goes awry when Lucifer finds himself in another compromising situation and something much darker is revealed.
---
The Last Man on Earth
Chris Elliot debuts in the synopsis for episode 4 of the next season, "Stocko Syndrome."
Tandy devises an escape plan to get away from Pamela (guest star Kristen Wiig) and back to Carol and the others. Meanwhile, the rest of the gang encounters a castaway, Glenn (guest star Chris Elliott), who has been stranded on an island for years.
---
Ghosted
Max and Leroy investigate a missing persons case in episode two of Fox's new supernatural comedy, "Haunted Hayride."
When a young girl goes missing at a haunted hayride, Max and Leroy go undercover to determine if it was a paranormal act or just a publicity stunt. Meanwhile, Barry brainstorms ways to "bro-bond" with Max and Leroy.


---
Gotham
Gordon takes a page from Police Academy 5 in the synopsis for episode 3 of season four, "They Who Hide Behind Masks."
Gordon takes matters into his own hands when he travels to Miami in attempts to persuade Carmine Falcone for his help in the fight against Penguin. There, he meets Carmine's (guest star John Doman) daughter, Sofia (Crystal Reed), who unexpectedly follows Gordon back to Gotham. The battle for Penguin's prized weaponry continues during auction night at the Iceberg Lounge and Bruce's presence puts him on Penguin's radar.
---
Supernatural
Here's a trailer and poster for season thirteen of Supernatural.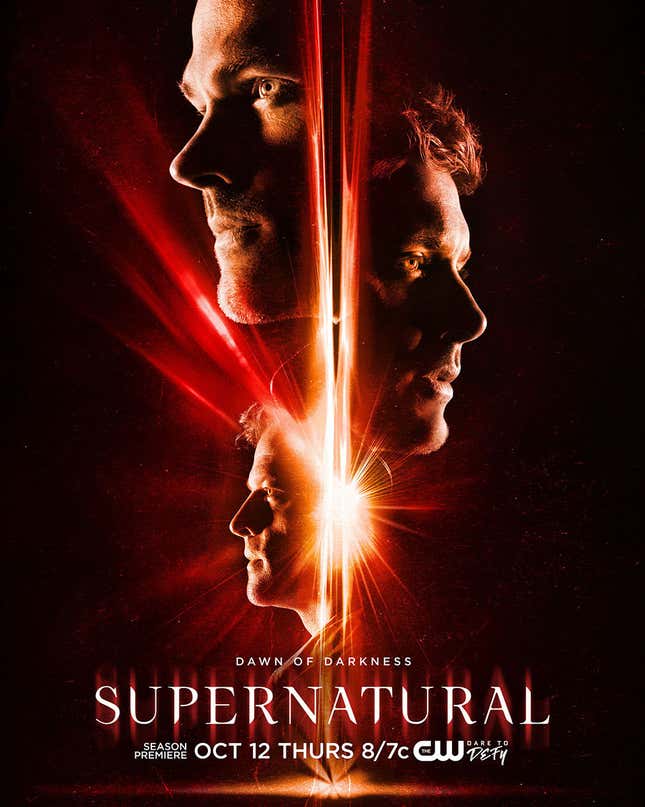 ---
Legends of Tomorrow
And here's a quick, new promo for the third season of Legends of Tomorrow.
---
Riverdale
Molly Ringwald returns in the latest TV spot for season two.
---
Con Man
Lastly, Alan Tudyk and Nathan Fillion discuss Con Man and its arrival on TV, letting you know what it's all about.
---
Banner art by Jim Cooke.