Godzilla: King of the Monsters casts an important new role. The Snowpiercer TV show finds another lead star. Jared Leto discusses his Blade Runner 2049 character. Mary Poppins Returns reveals why Mary Poppins, err... returns. Plus new footage from Spider-Man: Homecoming and Transformers: The Last Knight. Spoilers now!
Star Wars: The Last Jedi
Star Wars News Net has leaked merchandise promo shots featuring several new looks at soldiers and vehicles of the First Order.
They're all characters we've heard of in written reports before, but the official images include a shot of one of the Royal-Guard-inspired Praetorian Guards, a new First Order Stormtrooper with new helmet markings and an electrified, axe-like weapon, and an AT-M6—a variation on the AT-AT first glimpsed in the teaser trailer, that walks on its "knuckles" like a gorilla with a canon mounted on its back. Head on over to the link to see the pictures.
---
Godzilla: King of the Monsters
Zhang Ziyi has been cast as a covert member of the mysterious Monarch organization, who will feature in not just the new Godzilla movie but future movies in this kaiju-tastic new universe, according to Coming Soon.
G/O Media may get a commission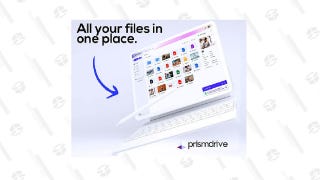 Save 97%
Prism Drive Secure Cloud Storage: Lifetime Subscription


---
Margie Claus
Melissa McCarthy will star as Margie, the wife of Santa Claus, in an upcoming Christmas action/comedy. In the story, Margie must assemble a crack team of elves to locate Santa after he goes missing on Christmas Eve.[Variety]
---
How It Ends
Coming Soon reports that Forest Whittaker has joined the cast of the Netflix apocalypse drama.
---
The Blob
Arclight Films has released a teaser poster for The Blob remake, starring Samuel L. Jackson. Now, the obvious thing to mention is that it looks a lot like the classic poster for Alien— but can anyone in the comments identify the source of that familiar-looking title font?


---
Blade Runner 2049
Jared Leto has revealed to the London Evening Standard his character is named Neander Wallace:
I play a character called Neander Wallace — to be honest they had me at the name. I read the script and fell in love with the character. But I don't think I'm allowed to talk about it — I may have already got in trouble for telling you the name...I can tell you that the experience of making it was one of the highlights of my film career. Throughout my life I've always gone back to that film. There was something in it that really touched me and taught me a lot about cinema. There's a level of craftsmanship and beauty that's unparalleled.
---
Mary Poppins Returns
Ben Whishaw has revealed to Entertainment Weekly the reason Mary Poppins returns—to cheer up his character, Michael Banks, after his wife dies and he begins to slowly crack in his attempt to keep his British upper lip appropriately stiff:
He's struggling to cope with looking after three children on his own, so he's trying to be very upright and English and not betray any stress or insecurity, but actually, everything is going completely wrong for him.
---
Marvel Phase 4
Producer Nate Moore spoke with Complex about what's next for the MCU following the fourth Avengers movie.
So we're finishing up what we call Phase 3, which will sort of end with the fourth Avengers film in 2019. And then I think for us, we continue that conversation of, what's next? Who will be the new heroes who can tell great new stories and bring us to new worlds that we haven't even had a chance to visit yet, while still expanding on the slate of heroes we have and finding the next step for characters people have come to love? We're looking for the next best story. And then we let the story tell us what we should be making as part of that one united narrative in the Marvel Cinematic Universe.


---
Spider-Man: Homecoming
Tom Holland shares his favorite stunt from the film, which it turns out is running up a steel beam—and stopping.
Anyway, here's another trailer, which is mostly just extended shots of moments we've already seen.


---
Transformers: The Last Knight
Four more TV spots have been released, all containing some snippets of new footage.
---


Snowpiercer
Mickey Sumner is the latest to join the cast as Bess Till, one of the lead characters in the series and a Brakeman, part of the train's security forces.[Deadline]
---
Star Trek: Discovery
Speaking with Collider, producer Alex Kurtzman teased the new Star Trek may dabble in celebrity cameos, after receiving some rapturous attention:
So many actors are fans. We literally got a list of them that were like, 'Here are people who said they want to be on Star Trek'. It was awesome… To just be in an episode or come in or out.


---
Game of Thrones
Watchers on the Wall reports that season seven concludes with Game of Thrones' longest episodes yet — the sixth episode of the season runs 71 minutes long, while the finale runs a feature-length 81 minutes. On the flip side, the fourth episode of season seven will only run 50 minutes—making it the shortest episode of the series, ever.
---
Arrow
Producer Wendy Mericle revealed to TV Line that season six will wrap up the story arc involving Felicity's dealings with the shady hacking group Helix:
Having bailed on Felicity — immediately after using her to find and free their founder, superhacker Cayden James — Helix's status is very much a dangling thread, and we don't like to leave those hanging around. It'd be a great, sort of built-in story for Felicity to revisit these people, who are not very happy with her, let's be honest. We left that open-ended on purpose, for sure.
---
Cloak & Dagger
Marvel's upcoming Cloak & Dagger TV series returns to production next month in New Orleans and will continue filming until October—meaning Freeform has either confidently ordered more episodes, or, as Spoiler TV suggests, "quietly renewed [Cloak & Dagger] for a second season."
---
Riverdale
Season two premieres October 11 on the CW [KSiteTV]
---
Supernatural
Speaking of the CW, season 13 of the show that promises to outlast us all, premieres the day after, on October 12. [KSiteTV]
---
Doctor Who
Finally, here's a featurette on Saturday's Ice Warriors episode, "Empress of Mars," focusing on the titular empress.


---


Additional reporting by Gordon Jackson. Banner art by Jim Cooke.