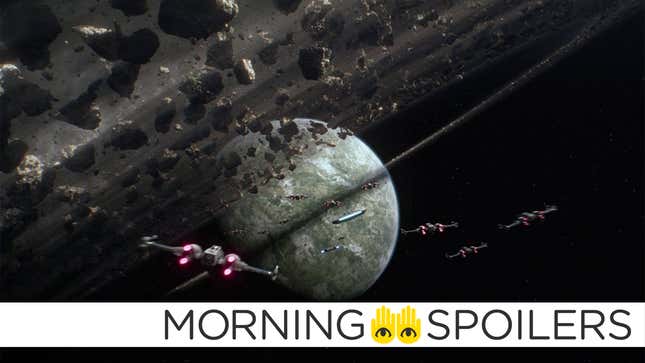 Black Lightning adds another comic book villain. Todd McFarlane says his Spawn movie is finally close to shooting. The Orville gives us a first look at Charlize Theron's guest appearance. Plus, new footage from The Walking Dead, Thor: Ragnarok, and Lore, and Legends of Tomorrow heads to the circus. Spoilers get!


Han Solo
Making Star Wars reports that the film takes place over five key locations:
Corellia, Han's homeworld and a location that's been rumored before, unsurprisingly
Kessel, a location teased by Ron Howard and home in the Expanded Universe to both the infamous spice mines and the smuggling run Han would famously complete in 12 parsecs
Iridium, a world briefly mentioned in the Expanded Universe and home to many space pirates
Savareen, a planet which has been name-dropped previously in the Expanded Universe for its famous brandy
Vandor, a name previously used in the EU for a system of barren, rocky planetoids near Coruscant—although MSW adds this could've been misheard in their reporting and could be Fondor, home to some Imperial Shipyards and a location appearing in the upcoming video game Battlefront II.
---
Spawn
During a panel at New York Comic Con, Todd McFarlane confirmed the new Spawn begins filming in February, adding:
I'm spending my own money. So who cares if it doesn't work out. It's a $10 million budget movie, and (a studio) would just get a 22-year-old punk director. I just want to be the old punk directing it.
[Deadline]
---
Guardians of the Galaxy Vol. 3
James Gunn revealed "almost all" of the songs for the third film's tie-in mixtape have been determined, ensuring the most vital element of the movie is nearly complete:




---
Thor: Ragnarok
In the latest TV spot, Thor is in someone's seat.
In related news, Cate Blanchett told ScreenRant she made a concentrated effort to determine Hela's look in the movie, while also pondering divine genitalia:
I have a vagina [Laughs]. So I don't think [Loki] has the vagina– although I don't know if Hela has a vagina either. She's a goddess– I don't know, I don't know [Laughs]. No… the original sketches that I got, Tom and I were just talking about that actually, they were quite similar. So Taika and I, and the producers, and Mayes [Rubio] who's the costume designer – and has done an amazing job, when you eventually see the costume because obviously I was in the 'pajamas of humiliation' today…. Hela looked very similar to Loki, and I said 'OK, well how can we either make that a virtue, or be a little bit more creative with that?'

And they were really receptive to it. So even though Hela doesn't carry the whole film – and that's not a spoiler – I've tried with the Makeup and Hair people and all of the different departments to give her a kind of visual journey, so that she's got somewhere to go as she becomes increasingly powerful. That look evolves and calcifies a little bit.
---
Hotel Transylvania 3
Mavis, Dracula, and the rest take a cruise in the film's first image. [Coming Soon]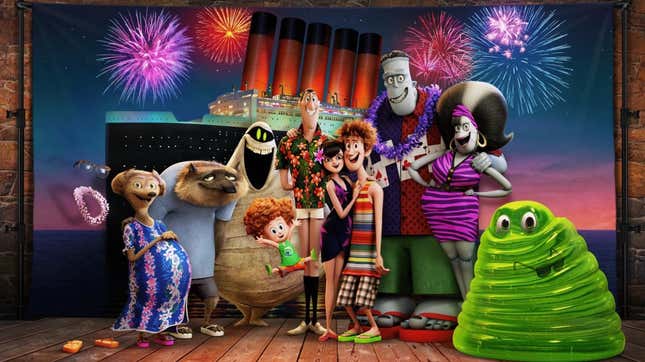 ---
Black Lightning

Musician Jill Scott has been cast as Lady Eve, a supervillain with ties to the Kobra Cult. In the series, Eve will serve as a liaison between Tobias Whale and a "secret group of corrupt leaders", which will presumably turn out to be the Kobra Cult at some point. [Spoiler TV]
---
Agents of SHIELD
Natalia Cordova-Buckley, who plays speedy Inhuman Yo-Yo on the show, has been promoted to series regular for the upcoming season. [Spoiler TV]
---
Ash vs. Evil Dead
Ash and company go up against a demonic school mascot on the new season of Ash vs.Evil Dead, premiering February 25 on Starz.

In related news, Bruce Campbell isn't sure if the show will be renewed for a fourth season.
When you find out, will you give me a quick call? We're searching for an air date right now. We think it's going to be the first quarter of 2018. Our bosses have new bosses now. Ash vs. Evil Dead has done very well in DVD sales, and is distributed overseas. We're also one of the most illegally downloaded shows. What does that say about our fans? They're a bunch of jerks — 'We want it, we like it, we just don't want to pay for it.'
---
Legends of Tomorrow
The Legends meet Billy Zane's P.T. Barnum in pictures from episode two of the new season, "Freakshow." More available at Coming Soon.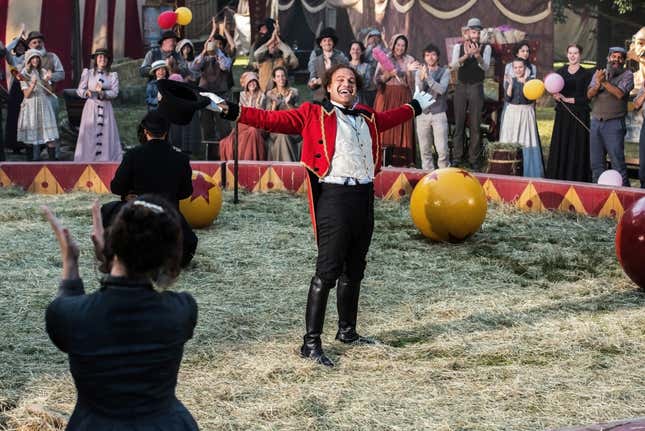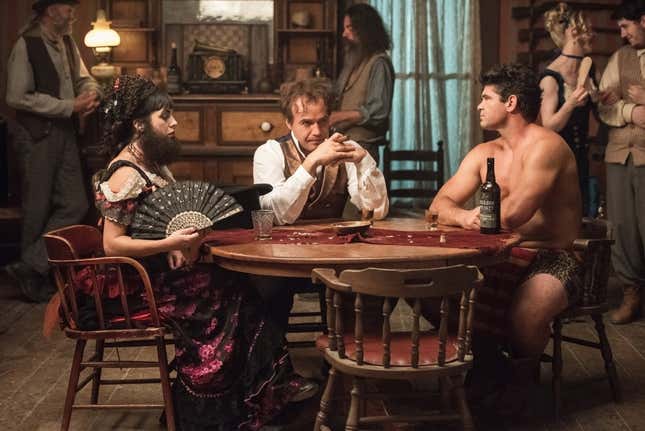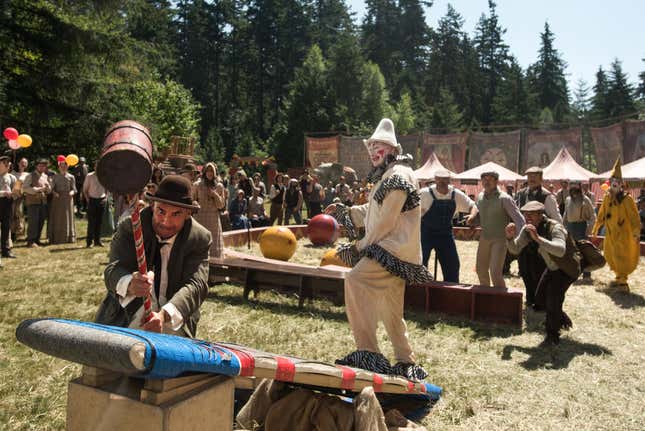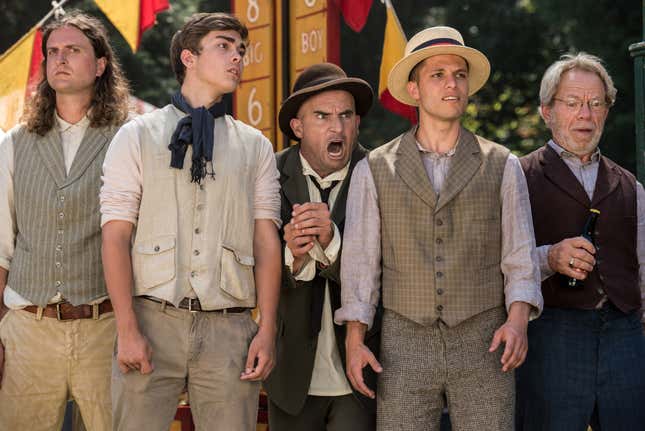 ---
The Orville
Meanwhile, Charlize Theron makes her debut on episode five of The Orville, "Pria." Click through for more. [KSiteTV]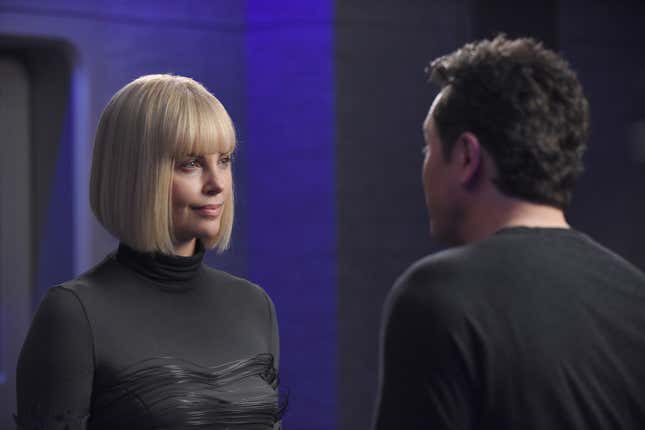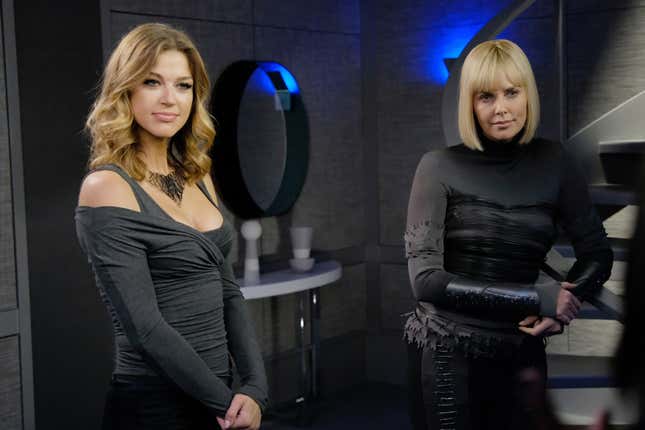 ---
Gotham
Producer Bryan Wynbrandt spoke to Comic Book about Butch's transformation into comic book supervillain Solomon Grundy.
It's got that Frankenstein-esk story to it. We are different from the comics in which Grundy's appearances came of Cyrus Gold character. We have Butch Gilzean who at the end of last season, we teased that his first name was Cyrus Gold which was obviously a nod to Grundy. Cyrus Gold has a canon of its own that's different from Gilzean. We really were looking at this as Butch Gilzean becoming Grundy. What's great is now that Grundy's back in the world, there are people who know him as Butch Gilzean. There's a very interesting dynamic to play when he crosses with our core characters and they don't know that he's this new character, this new canonical villain.
---
The Walking Dead
Rick rallies the troops in the latest promo for season eight.
---
Lore
Finally, here's a sneak peek at Amazon's Lore, featuring Robert the Doll and the secret history of ventriloquism.
---
Banner art by Jim Cooke.