Get a brief teaser of Zachary Levi's Shazam appearance. Our first look at Terry Gilliam's long-awaited The Man Who Killed Don Quixote is finally here. Some familiar faces will be showing up in Legends of Tomorrow's season finale. Plus, more footage from Ash vs. Evil Dead's return, and new iZombie pictures. Spoilers now!

Z
Variety reports Kiersey Clemons will star alongside Gael Garcia Bernal in Jonás Cuarón's futuristic Zorro reboot.
---
Hypnotic
Robert Rodriguez is teaming up with screenwriter Max Borenstein for "a grounded cop thriller with sci-fi elements," according to THR.
G/O Media may get a commission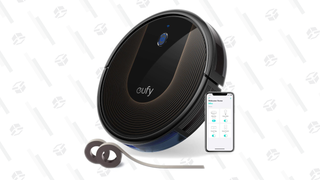 48% Off
Eufy BoostIQ RoboVac
---
Bond 25
Trainspotting screenwriter John Hodge is attached to write Danny Boyle's potential James Bond film. [Deadline]
---
The Man Who Killed Don Quixote
Director/screenwriter Andrea Corsini has the first photo of Jonathan Pryce as Don Quixote, and Adam Driver as Sancho Panza in Terry Gilliam's long-in-the-making The Man Who Killed Don Quixote.
---
Jungle Cruise
Speaking with Comic Book, visual effects supervisor Jake Morrison described Jungle Cruise as "a new Indiana Jones film" starring Dwayne Johnson.
I mean I've got to say, I'm incredibly excited about the whole thing, it's really like Dwayne is in a new Indiana Jones film. It's Dwayne at his best, and that is a man with some severe charisma. And then we're putting him on this huge adventure, and they've just literally announced the female lead in the picture is Emily Blunt. So, we're really excited. We start principal photography … well I'll probably blink and we'll be doing principal photography, but we are in prep right now. And that's going to be a very fun film.


---
2000 AD
In a recent interview with Jo Blo, Duncan Jones stated he's interested in directing a movie based on one of 2000 AD's properties, such as Slaine or Rouge Trooper.
I talked to Marvel about that a little bit and I was like. "Mm. This is kind of interesting." I knew nothing about Guardians of the Galaxy and … "This is kind of interesting. Maybe I could do something with this?" But I didn't engage, I think, passionately enough or immediately enough at the time, and I kind of had other things that I was looking at. So I didn't go ahead with it, but I think if there was something like that, maybe.

But I kinda feel like where my heart lies, if I were gonna go in the comic book direction, it would be in the British stuff just because I am British. So 2000 AD where Judge Dredd came from, has an amazing cast of characters. And I think if I were ever gonna do a comic book character, it would probably be one of those.

Dredd was great, but there are like Slaine, and Rogue Trooper, and all of these amazing British characters that are over here, people don't know about. So if I can find a way to get the budget to do one of those, which is difficult because they're not known about… Those would be amazing movies, it's just because they're not known about. How do we make that work? But we'll see. I would rather focus on trying to do a 2000 AD character.
---
Insidious 5
Bloody-Disgusting reports a fifth Insidious film is being fast-tracked after Insidious: The Last Key turned out to be the highest-grossing film of the franchise to date.
---
Shazam
Zachary Levi revealed the slicked-back hair he'll be sporting as Shazam on Twitter.
Meanwhile, David F. Sandberg once again took to Reddit to confirm the movie's official costume will be revealed soon:
WB have already decided yes. Actually if someone had managed to snap a shot of the suit last week when we were shooting outside they would have released an official pic right away. Since we got away with it they want to do more of an official thing. And it's right around the corner…
---
Tomb Raider
In the latest clip, Lara Croft has a very unfortunate trip down river.
---
Bleach
Warner Bros. has released a quick teaser for the live-action adaptation of the anime, Bleach.
---
Star Wars: Resistance
Yakface reports that Lucasfilm has filed several trademarks for merchandise—for everything from toys, Christmas decorations, temporary tattoos, games, and mobile apps—under the name Star Wars: Resistance, hinting that it could be the name of a potential new show, perhaps Rebels' animated successor, or even one of the live-action ventures for Disney's 2019 streaming service. It could just be something else entirely though, so we'll have to wait and see.
---
Legends of Tomorrow
CBR has confirmed both Matt Ryan (John Constantine) and Johnathon Schaech (Jonah Hex) will return in the season finale.
Meanwhile, here's another photo of Caity Lotz in western garb to tide you over.
In related news, Damien Darhk kidnaps The Atom in the synopsis for "No Country For Old Dads."
When Damien (Neal McDonough) and Nora Darhrk (guest star Courtney Ford) take Ray hostage they force him to try and fix the Fire Totem, but Ray (Brandon Routh) tries to use the power struggle between them to his advantage. Ray and Nora find themselves working together in 1960's East Germany in order to fix the totem, but soon come face to face with a younger and deadlier version of Damien Dahrk. Meanwhile, Sara (Caity Lotz) seems to be taking positive steps in her personal life.
---
The Orville
Deadline reports Chris Johnson (47 Meters Down) is slated to appear in multiple episodes of season two as an undisclosed "character aboard the ship."
---
iZombie
KSiteTV has a gallery of images from March 12's two-parter, "Brainless in Seattle." More at the link.
---
Riverdale
Fred Andrews throws down with Hiram Lodge in pictures from March 7th's episode, "There Will Be Blood." Head over to KSiteTV for more.

---
Black Lightning
Grab your Google Cardboard, because the CW has released a fun 360 Black Lightning video.


---
The Magicians
The cast sing "Under Pressure" in a clip from the upcoming musical tribute to David Bowie:
Entertainment Weekly also has word the episode will include a rendition of "All I Need Is the Girl" from the musical, Gypsy.
---
Channel Zero
Spoiler TV has images from the next two episodes, "Alice in Slaughterland" and "The Red Door." Click the corresponding links for more.
---
Ash vs the Evil Dead
Ash gives advice on how to talk your kids about drugs in his latest parenting tutorial.
Better still, Starz has a released a three-minute overview on the latest season, featuring scores of new footage.
---
Star Wars: Rebels
Finally, the Ghost crew ride loth-wolves in a clip from the latest episode, "Wolves and a Door."


---
Banner art by Jim Cooke.