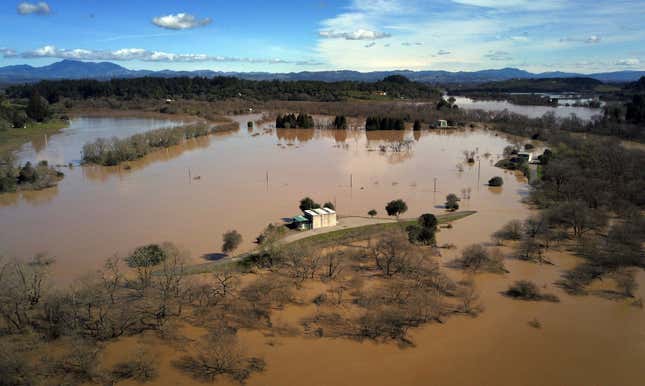 2022 has been a year chock-full of severe weather worldwide, from heat waves and drought to hurricanes and floods. Even as we reach the end of December, the weather extremes haven't let up.

Another Vortex Hits Texas | Extreme Earth
A so-called "atmospheric river" is dumping heavy precipitation along the West Coast from Oregon through California. At low elevations, that water is falling as rain, but in the Cascade and Sierra Nevada mountains, snow is set to accumulate.
Downpours could bring up to an inch of rain per hour, National Weather Service forecaster, William Churchill, told the New York Times. The western states could certainly use the moisture—most of the country (and all of California) is in some level of drought. However, when precipitation falls in large and sudden bursts over dry land, it can cause other problems like flash floods and landslides. NWS warns that both flooding and debris flows are a risk with this week's storm, particularly over burn scars from the West's many recent, severe wildfires.
Already, the "deep and fast moving storm" has dumped between two to seven inches of rain over parts of western Oregon, Washington, and California between Monday and Wednesday morning. In Portland, the rainfall flooded roadways. And, coupled with high winds, the storm knocked out power for more than 100,000 households—more than 60,000 of which are still without electricity, as of writing.
The atmospheric river is forecast to regain strength once again, after a brief weakening on Wednesday, and bring yet more rainfall, along with snow farther inland.
On the other side of the country, heavy rain is also forecast for much of the southeast from east Texas to North and South Carolina starting Friday. That projected precipitation is set to hit a region still struggling in the aftermath of the polar vortex event that left most of the country in a deep freeze over the holiday weekend. At least 63 people died as a result of the winter storm—most in western New York, but some in other states including Missouri, Kentucky, and Oklahoma.
In addition to the deaths, cities across the Southeast have been left without drinkable water. Multiple days in a row of icy temperatures caused pipes and water mains to burst, as first reported by NPR. Temperatures have started warming up and the earlier freeze is currently giving way to unseasonably high temps in an instance of some serious weather whiplash. However, the consequences of the Arctic blast still linger.
In Jackson, Mississippi people are once again under a citywide boil water notice as leaks sprung up in the already failing municipal system on Christmas Day. Similarly, in Shreveport, Louisiana many were left with dry taps over the weekend, and the city distributed bottled water to households on Monday. In Selma, Alabama the mayor declared a state of emergency over a water shortage, brought on by the sheer number of burst and leaking pipes. In total, NPR reported that dozens of southern water districts had issued boil water notices or other advisories related to low pressure and related to infrastructure damaged by the freeze.
Though each of these individual events cannot yet be directly attributed to climate change, research suggests that, generally, both polar vortex anomalies and atmospheric rivers may be becoming more intense as greenhouse gas levels rise.