J.J. Abrams has his Star Wars: Episode IX script. Meet Mrs. Whatsit in a new Wrinkle in Time clip. Another member of the Doom Patrol joins Titans. Roy Harper returns in new pictures from Arrow. Plus, tons of new looks at Tomb Raider, and Netflix's Sabrina show casts a major villain. To me, my Spoilers!



Batgirl
Warner Bros. VP Michelle Wells has already reached out to Black Panther: World of Wakanda writer Roxanne Gay, who expressed interest in writing Batgirl on Twitter.
Gay responded positively so... god, we live in a weird world, don't we?
Meanwhile, Variety reports that before he departed the project, Joss Whedon wanted to adapt Barbara Gordon's first appearance in Detective Comics #359, "The Million-Dollar Debut of Batgirl," which saw the librarian-turned-crimefighter taking down that larcenous lepidopterist, Killer Moth, and his mendacious Moth Men. Have opinions on what Batgirl should be about? There's a post for that!
G/O Media may get a commission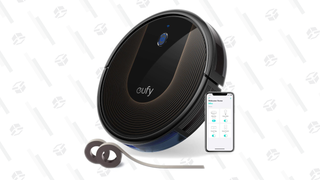 48% Off
Eufy BoostIQ RoboVac
---
Star Wars Episode IX
Appearing as a guest on The Late Show with Stephen Colbert, J.J. Abrams revealed Episode IX already has a script and will begin filming this summer.
We have a script, which is a big deal for me. It starts shooting end of July … Sometimes having the script in advance is something I haven't always been lucky enough to have … But I'm writing this with Chris Terrio, who's a genius, and I'm having a great time.
---
Nightwing
Meanwhile in response to concerns over the Whedon/Batgirl news, Chris McKay stated Warner Bros. will have to fire him before he leaves Nightwing.
---
Goosebumps 2: Slappy's Revenge
Child actors Madison Iseman (Jumanji: Welcome to the Jungle), Ben O'Brien (Manchester By the Sea), Caleel Harris (Peanuts: The Movie), and Jeremy Ray Taylor (It) have joined the cast of the Goosebumps sequel in undisclosed roles. [Variety]
---
Tomb Raider
Coming Soon has a gallery of 40+ images from Alicia Vikander's Tomb Raider. Click through for the rest, which feature very little in the way of tombs being raided.
---
A Wrinkle in Time
Mrs. Whatsit introduces herself in the latest clip.
---
Mission: Impossible - Fallout
Filming has wrapped, according to Christopher McQuarrie on Instagram.


---
Titans
Comic Book reports Jake Michaels is the latest to join the show's take on the Doom Patrol, as Cliff "Robotman" Steele.
---
The Chilling Adventures of Sabrina
Deadline reports Richard Coyle has joined the series as the villainous Father Blackwood, "High Priest of the Church of Night and Dean of the Academy of the Unseen Arts" and a man who hides "a terrifying dark agenda that will put him in direct conflict with Sabrina and other members of the coven."
---
Blair Witch
Though no further details are available, Deadline reports Lionsgate is developing a TV series based on The Blair Witch Project.
---
The X-Files
Spoiler TV has a synopsis for 9, "Nothing Lasts Forever" written by Karen Neilsen and directed by Kim Wong.
While investigating human organ theft, Mulder and Scully uncover a mysterious cult consumed with macabre rituals in the all-new "Nothing Lasts Forever" episode of THE X-FILES airing Wednesday, March 14 (8:00-9:00 PM ET/PT) on FOX. (XF-1108) (TV-14 S, V)

Guest Cast: Fiona Vroom as Barbara Beaumont/Sitcom Barbara, Jere Burns as Dr. Randolph Luvenis, Carlena Britch as Juliet 'La Avispa' Bocanegra, Micaela Aquilera as Olivia Bocanegra, Fabiloa Colmenero as Josephine Bocanegra, Aidan Kahn as Agent Colquitt and Albert Nicholas as Agent Bill Bludworth
---
Legends of Tomorrow
TV Line reports Violett Beane will appear as Jesse Quick in March 6th's episode, "No Country for Old Dads."
Meanwhile, the Legends have to travel to 1954 Mephis to rescue rock and roll itself in the synopsis for 14, "Amazing Grace."
When the Legends learn that a mysterious tragedy destroyed Memphis in 1954, thus eradicating the birthplace of rock and roll, they embark on their most important mission - to save music. Nate (Nick Zano) is excited to show Amaya why music is important to him and he is surprised it leads to a rock legend as well as the sixth and final totem, the Death Totem. Meanwhile, Zari (Tala Ashe) helps their newest member try to adjust to the team.
---
Ghosted
Max discovers a secret surveillance system while studying the multiverse in the synopsis for March 18th's episode, "The Wire."
When new cases become few and far between at the Bureau, Max obsesses over his multiverse theory and Leroy grows restless - until they discover a suspicious wire in the office that they think might be a secret surveillance system. They enlist the whole team to help uncover its source. Meanwhile, a customer (guest star Sam Richardson) arrives at the Bureau's facade looking to purchase wire coat hangers and everyone must take turns distracting him from the chaos below.
---
Gotham
Poison Ivy III's reign of terror continues in the synopsis for March 15th's episode, "Reunion."
Ivy (guest star Peyton List) picks her next target, leading Gordon and Lucius back to an old friend, as Selina tries to take matters into her own hands. Sofia wants full control of Gotham and turns to Lee about the state of the Narrows. Meanwhile, Bruce tries to make amends with Alfred, and Nygma visits Arkham.
---
Arrow
Thea rescues Roy in pictures from "The Pegasus," courtesy of TV Line.


---
Agents of SHIELD
Episode 5.13 is titled, "Principia" according to Spoiler TV.
Meanwhile, Coming Soon has a poster from the show's 100th episode, "All the Comforts of Home." Click through for more pics from the episode.
---
Ash vs the Evil Dead
Ash discusses bad influences in his latest parenting video.
Finally, Ash endorses Shemp's Beer in a second commercial for the fictitious beverage referencing Shemp Howard of The Three Stooges. Of course, Evil Dead devotees are familiar with the actor's in-name-only history with the franchise.
---
Banner art by Jim Cooke. Batgirl #1 art by Rafael Albuquerque.