Cheap smartphones—we mean really cheap, off-contract smartphones—are terrible. They're tormented by horrid, pixilated screens, they're slower than your grandma, and they feel like they're held together by Scotch tape. The $180 (off-contract!) Moto G is none of those things. It definitely has significant shortcomings, but put simply, you can't get a better cheap phone.
What Is It?
It's a 4.5-inch smartphone that runs Android 4.3 (with a promised upgrade to 4.4 KitKat in the near future). It has Qualcomm's quad-core Snapdragon 400 processor clocked at 1.2GHz, and 1 GB of RAM, buuuut there's no lightning-quick LTE goodness for you.
It's $180 for the 8GB version and $200 for the 16GB version (we advise you to spend that extra $20). That's the unlocked, unsubsidized price. It's aimed primarily at the developing world, but available here in the US. Make no mistake, those who are hoping that it's somehow a magically cheaper Moto X will be sorely disappointed.
G/O Media may get a commission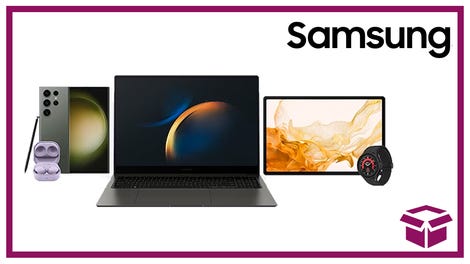 24 hour deals
Discover Samsung - Daily Deal
Why Does It Matter?
The Moto G is insanely cheap for a device this capable. Most smartphones under $200 barely work. In terms of design, speed, and software, the Moto G isn't all that far off from its high-end brethren like the Moto X, and it's better than most of last year's aging flagship phones. It's essentially Google/Motorola's bid to get Android into the hands of people who didn't think they could afford a smartphone.
A quick look at other phones in this price range will show you that the combination of its display (720p), software (Android 4.3), and processor (quad-core clocked at 1.2GHz) put it way ahead of its competitors. Some of its class, like the Samsung Infuse 4G, have their own strengths, like 4G speeds (though not LTE), an 8MP camera, and expandable memory, but are way behind in software (many are stuck on Android 2.2), screen quality (800 x 480 is all too common), and processing. It's a non-starter, basically.
In fact, the only place you're going to come anywhere near to the capability of the Moto G on paper is the off-brand wilderness, where the likes of ThL, Mobiltab, and ZOPO can deliver quad-core processors, 8MP cameras, software as recent as Android 4.2, qHD displays (960 x540), expandable memory, and 4G (HSPA+) speeds. That said, do you know much about these companies and the quality of their products? Neither do we. Suffice it to say that the screen and software on the Moto G are unmatched, and we're willing to bet the build-quality is, too.
Design
At first glance, the Moto G is a dead ringer for the Moto X. That's a good thing. It has the same gently rounded corners, and a plastic back with a soft, brushed feel. There are differences—the buttons jut out a little further, it's a 4.5-inch screen instead of a 4.7-inch screen on the X—but they're pretty subtle. The build quality feels just as solid, though, which is not something you typically see in a phone at this price.
The screen is handily the best in its class. You can't find an off-contract phone for under $200 that has a 4.5-inch 720p screen. At 330 ppi, text is extremely sharp and easy to read. That said, it's nowhere near as crisp as the 1080p screens you see on the Nexus 5, the HTC One, or the Galaxy S4. Hold it next to the Moto X, and you can see that can't quite keep up despite going spec for spec. The Moto G really struggles with gradients (you can see blocky stepping in shading), colors aren't as vivid, and blacks aren't as deep.
On the back of the device there's a 5MP camera with an LED flash, and next to it is the speaker grill. Both are pretty lousy by modern standards, but again, they're absolutely fantastic for their class.
While the Moto G can't keep up with best-in-breed smartphones, the fact that it's even in the same conversation is remarkable, given that it comes at a fraction of the price.
While the Moto X can be customized to the nth degree thanks to Moto Maker, the Moto G has a cheaper, DIY version: Namely, you can replace the back panel with one that's a little more "you." There are 15 options to use from, including Samsung-esque flip shells than turn your screen on/off when you open/shut them. You just slide your fingernail into the micro USB port, pop the back off, and replace it with the one you want. Every Moto G comes with a standard black shell. The regular shells are $15 each, and the flip covers are $35.
Using It
Your first impressions of the Moto G will depend heavily on what your previous phone was. If you're upgrading from a two-year old phone or, more likely, another, older sub-$200 phone, this will likely be something of a revelation. Generally speaking, it's pretty snappy. Despite the Snapdragon 400 being one of the lower-tier processors from Qualcomm, it's by no means bad. It can handle even some of the most graphically intensive games out there, including Dead Trigger 2.
That said, it's not winning any races. Going against the current generation of smartphones, there's really no comparison. If you're looking at it next to speedsters like the HTC One or the Nexus 5, apps on the Moto G open slower, there's more lag and stutter throughout the OS, and there's a much longer delay in between taking photos. Generally speaking, though, processing speed isn't an issue.
Data speed, however, is another story. This is a 3G phone. That doesn't just mean that it doesn't have LTE, it doesn't have HSPA+ or any "faux G" speeds, either. If you're coming from a 4G phone the drop in speed while you're out and about will drive you crazy. UPDATE: We were sent the 3G variant of the phone, which accounts for some of our slowness here. The U.S. version does indeed support HSPA+, which is a very decent indeed.
There also seem to be some strange issues with radio. Using a unit with an AT&T SIM card in NYC, it was a battle to get enough of a signal to check Facebook. Downloading apps took so long, I just gave up. That said, way out in Bend, OR, I averaged 6.5Mbps downloads and 3.15Mbps uploads, which is very decent. Clearly, your mileage may vary.
The deeper frustration lies in the camera. For a 5MP shooter, we didn't expect much, which was good. Photos look flat and unfocused, lacking in detail. Colors are pretty washed out, it's noisy as hell in low light, and there's a lot of bleed from light sources. The camera app is basically the same as it is on the Moto X, which is to say it's streamlined, clean, and easy to understand. But unlike the X, the Moto G is very slow. Unless you enable the drag-to-focus feature, the autofocus is terrible. Now, again, is it good compared to other phones under $200? It's probably not far off. Others offer 8MP cameras, but none have as good of a phone attached to it. [See Moto G sample photos]
Sound coming out of the speaker is plenty loud, which is honestly the most important thing it can be. Listening to music on it isn't unpleasant, but it isn't well-balanced either, with the highs being a bit grating and the lows all but non-existent. Battery life is good—I just about always made it until 10pm or so before it died—with medium/low usage. A lot of high-end phones can't boast the same.
The Moto G's software is similar to the Moto X's, which is another for the plus column. It's still a very clean version of Android that, as a result, is trim, attractive, and mostly smooth. It doesn't, however, include any of the Moto X's slick tricks, like touch-free controls, Active Notifications, and shake-to-wake camera. It does have Motorola's Assist app, which allows the phone to change profiles dependent on conditions like Sleeping or Meeting, but curiously, it left out the Driving mode, which is easily the most useful.
Like
The price. In terms of bang for $200 bucks, this thing can't be beat. It feels so much better than you'd expect for a phone this cheap (and unlocked). The software is recent enough, and should be caught up to Android 4.4 (KitKat) in the very near future, which is more than you can say for a lot of current-gen high-end phones. Speed is generally very good, and the screen is extremely sharp compared to its closest competitors.
No Like
The 3G radio is pretty much a deal-breaker, especially if you're coming from a 4G device. The camera is incredibly bad. The screen is sharp but bland. The $180 version only has 8GB of storage. The Android OS takes up about 3GB of storage, leaving you only 5GB for all of your music, apps, games, photos, and videos. You can burn through that very quickly. For just $20 more, the 16GB version (which allows you 13GB of storage) is a much better buy. The flip cover is cumbersome, ill-fitting, and waaaay over-priced at $35. The regular backs are better, but $15 still seems kind of high for what's got to be a 10-cent piece of plastic.
Should You Buy It?
If you're on a carrier contract, then no. get the Nexus 5 instead, which is $350 off-contract and is better in absolutely every way.
But! If you are not on a contract, and if you'd rather not spend more than $200 for an unsubsidized phone, then that would change to a resounding yes. Look, sometimes we're short on money, but that doesn't mean you shouldn't be able to buy a solid smartphone to help you improve your life. We highly recommend shelling out the full $200 for the 16GB version, though, as 8GB will just fill up way too fast. [Motorola]
Moto G Specs
• Network: All GSM carriers
• OS: Android 4.3
• CPU: 1.2GHz quad-core Snapdragon 400
• Screen: 4.5-inch 1280x720 LCD display (330 PPI)
• RAM: 1GB
• Storage: 8 or 16GB
• Camera: 5MP rear / 1.3MP front
• Battery: 2070 mAh Li-Ion
• Dimensions: 5.11 x 2.59 x 0.46 inches
• Weight: 5.04 ounces
• Price: $180 for 8GB / $200 for 16GB