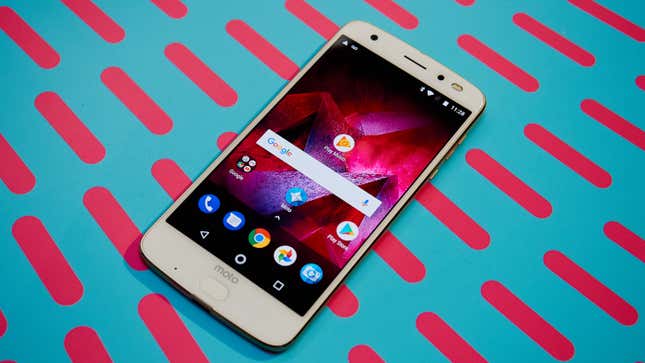 Motorola stands alone. Last year LG and Google both killed their respective modular phones. So the new Moto Z2 Force, with its small array of magnetic attachments, is the closest thing we have to a smartphone with customizable modular hardware. No one actually wants this, but that's not stopping Motorola from doubling down and insisting that the modular phone's time has arrived.

Rob Savage on Collaborating with YellowJackets' Sophie Thatcher
This is the second iteration of a modular phone from Motorola, which released the Moto Z last year to much confusion and sighs. As with the Z, the new Z2 Force is a super thin phone with a mighty thick camera bump and a magnetic connector on the back. The mods, which range from fancy cameras to fatter batteries, simple connect to the magnet, creating a chunky new device.
Last year the Moto Z failed because it was too much gadget and not enough of a good phone all on its lonesome, so this year Motorola is focusing on making a great phone first. The Moto Z has the top-of-the-line Snapdragon 835 processor also found in the Samsung Galaxy S8 and a 5.5-inch 1440p AMOLED display that should be plenty beautiful while also battery friendly. Motorola also claims it is shatterproof and waterproof.
The Moto Z2 is also the latest phone to jump on the dual camera bandwagon, with its two 12-megapixel shooters.
As phones go, the Moto Z2 is exceptionally thin at just 6mm. By comparison the iPhone 7 is 7.1mm thick and the Samsung S8 is 8mm thick.
Yet the Moto Z2 will bulk up if you snap on any of the new mods. Motorola showed off two at the event today here in New York. The first is the MotoMod Gamepad that turns it into a Nintendo Switch-like device for gaming. Motorola claims that because it uses the MotoMod connector instead of Bluetooth it will be lag free. The second mod announced is the $300 360-degree camera that shoots video in 4K and has live streaming capabilities
Motorola did not announce a contract-free price for the phone, but the company told reporters that it will start at $30 a month on August 10th from every major US mobile carrier. Pre-orders for the Moto Z2 start today.