You have to get past the farting. That's the key with Swiss Army Man. Once you get over the fact that the film starts with a literal butt-load of it, the first movie from the directorial duo called Daniels becomes a revelation. It's a poetic and engaging rumination on life, love, and friendship—farts included.
Swiss Army Man starts with Hank (Paul Dano). He's stranded on a desert island, about to kill himself, when he sees a corpse float up on the beach. Hank names the corpse (Daniel Radcliffe) Manny, and though Manny is obviously dead, the reminder of humanity reinvigorates Hank. Swoosh! He's rescued from the island. And yes, that happens when Hank rides Manny's body as a fart-powered jet-ski. But that absurdity and humor is the cornerstone for what comes next.
From that point, you never quite know what's real, what's not, what's happening, or what isn't. What we see is Hank experiencing something profound. We're witnessing a burgeoning friendship at a character's darkest hour. And that new friend is a blank slate, curious and fascinated by the mysteries of life. So they talk about them. We assume this is all happening in Hank's head, but Radcliffe's performance always plants a seed of doubt. It's hard not to fall for this duo, especially as they delve deeper into their own insecurities and histories, illuminating the questions we all have about this world we live in.
Along the way, Daniels does several things to keep the narrative moving. Occasionally, they use pop culture to keep things light. Jurassic Park, for example, plays a huge role in several ways. Technology is a constant presence. The music fluctuates from something the characters are participating in to something only for the audience, keeping that ethereal, almost otherworldliness tone throughout.
G/O Media may get a commission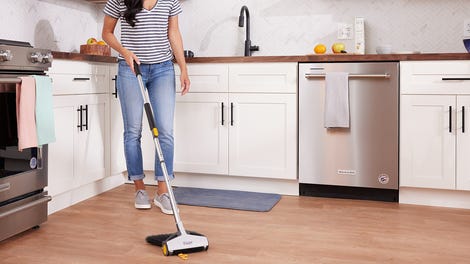 BOGO 50% Off
Flippr - BOGO 50% Off
In the end, Hank's story reaches a logical conclusion, but the film never fully commits to it. We think we know what happened because, really, there's only one explanation based on the clues provided. But there's always some doubt. The dream of the entire experience stands opposed to what we see onscreen, and it's a moving notion. Do we trust what the film shows us at the end of the journey? Or do we choose to reinterpret it based on feelings that have been stirred up until that moment? That's the versatile genius (swiss army knife, anyone?) of the film itself. Whatever you want to believe works just as well.
Swiss Army Man is a powerful directorial debut, led by two stunning performances. It's versatile, challenging, and incredibly polarizing. Daniels have created a wacky movie that many people just won't buy into. With any good relationship though, you reach a point where you just have to accept the farting and move on. Same with Swiss Army Man. Once you do that, it's simply wonderful.
Swiss Army Man is now in theaters.