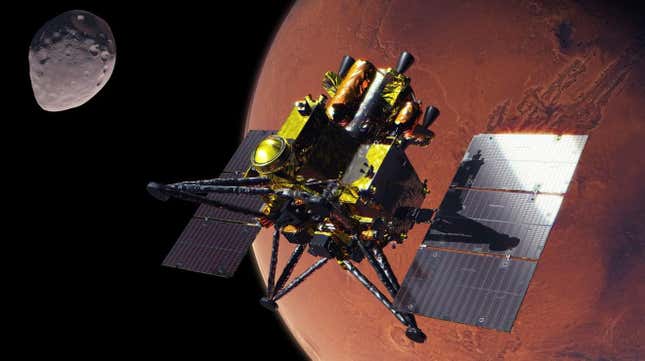 JAXA is getting ready to visit Mars's two moons, but Japan's space agency is no longer going alone.
Astronomers Could Soon Get Warnings When SpaceX Satellites Threaten Their View
This week, NASA signed a memorandum of understanding with JAXA to join its upcoming mission to the two Martian moons, Phobos and Deimos, which is scheduled to launch in 2024. NASA has assembled a team of scientists and prepared two instruments to board JAXA's spacecraft to Mars, the space agency announced on Tuesday.
The Martian Moons eXploration (MMX) mission will not only visit the two mysterious moons that whirl around Mars, it will also land on the cratered surface of Phobos to snag a sample from the largest of the two moons.
It's an ambitious plan as no spacecraft has successfully ventured to the Martian moons before, let alone land on one. JAXA, however, has some experience in returning samples from cosmic bodies. The Japanese space agency's Hayabusa spacecraft retrieved samples from asteroid Itokawa's surface in 2010, while Hayabusa2 returned samples from a different asteroid named Ryugu in 2020.
For its part, NASA will pack its Mars-moon Exploration with Gamma rays and Neutrons (MEGANE) spectrograph instrument, and the Pneumatic Sampler (P-Sampler) technology demonstration on board the MMX mission. The space agency has also called on ten researchers to join the MMX mission team as NASA scientists, observing the moons with the spacecraft in orbit and analyzing the Phobos samples once they are returned to Earth. Participating institutions include Johns Hopkins Applied Physics Laboratory, California State University-San Bernardino, Northern Arizona University-Flagstaff, and NASA's Jet Propulsion Laboratory, among others.
The main purpose of the mission is to analyze the origins of the Martian moons and determine whether they are in fact captured asteroids in the Mars system or fragments that coalesced together following a huge impact on the Red Planet. The mission could help scientists better understand how terrestrial planets like Mars form and learn more about the history of the planet.
NASA and its Japanese counterpart have cooperated before, namely on board the International Space Station where Japan has its own science experiment module. JAXA is also contributing to NASA's Lunar Gateway, an orbital outpost around the Moon that's part of the Artemis program.
For more spaceflight in your life, follow us on Twitter and bookmark Gizmodo's dedicated Spaceflight page.