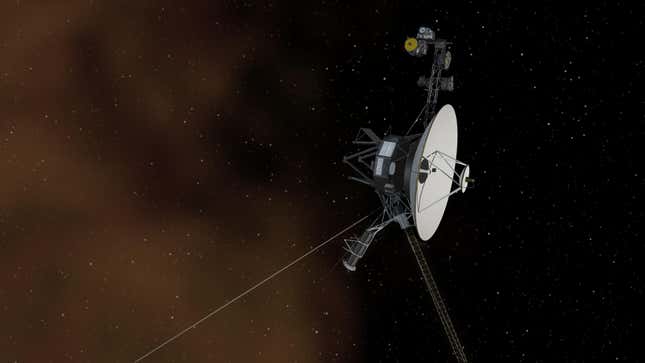 A routine sequence of commands has triggered a 2-degree change in Voyager 2's antenna orientation, preventing the iconic spacecraft from receiving commands or transmitting data back to Earth, NASA announced earlier today. Mission controllers transmitted the commands to Voyager 2 on July 21.

First Full-Color Images From Webb Space Telescope
Voyager 2, one of two twin probes launched in the 1970s to explore planets in the outer solar system, is located some 12.4 billion miles (19.9 billion kilometers) from Earth and is continually moving deeper into interstellar space. The glitch has disrupted the probe's ability to communicate with ground antennas operated by the Deep Space Network (DSN), and it's unable to receive commands from the mission team on Earth, NASA explained.
The communications pause is expected to be just that—a pause. Voyager 2 is "programmed to reset its orientation multiple times each year to keep its antenna pointing at Earth," the space agency says. This procedure should—fingers crossed—re-establish the lost connection and allow routine communications to resume. The next reset is scheduled for October 15, which is 79 days from now. Undoubtedly, this will be 79 agonizing days for NASA and the Voyager team.
Despite the current communication hiatus, the mission team remains confident that Voyager 2 will stay on its planned trajectory. Voyager 1, situated nearly 15 billion miles (24 billion kilometers) away from Earth, "continues to operate normally," NASA added.
The Voyager probes were initially designed to explore the outer planets of our solar system, but these missions have continued trucking along even as the twin spacecraft entered into the interstellar void. Voyager 1, launched in 1977, has the distinction of being the most distant human-made object from Earth, and it's the first spacecraft to venture into the interstellar medium, penetrating the boundary in 2012. Voyager 2 followed a different trajectory that enabled it to perform a close flyby of Neptune in 1989. It entered interstellar space in 2018, and it's likewise exploring this poorly understood region.
Both Voyagers continue to send valuable data about the interstellar medium. It would be a real shame if Voyager 2, come October, is no longer able to call home.
For more spaceflight in your life, follow us on Twitter and bookmark Gizmodo's dedicated Spaceflight page.