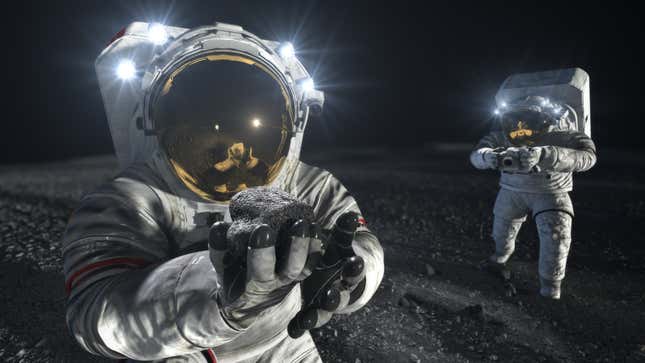 It's been more than 50 years since astronauts first left their dusty footprints on the lunar surface, but humanity is finally going back to the Moon as part of NASA's Artemis program. A lot has changed since the days of Apollo, which will likely be reflected in the new suits donned by those making the trip to the Moon this time around.

Better Mobility & Cameras: NASA & Axiom's New Spacesuits | Techmodo
In order to prepare for the upcoming moonwalks, NASA has been developing a next generation spacesuit for its future Artemis missions. The space agency will reveal a prototype of its lunar spacesuit, known as the Exploration Extravehicular Mobility Units (xEMU), during a televised event on Wednesday, March 15 at 10:30 a.m. ET (we'll set up a watch page when the time comes).
The suits have been a long time coming. In June 2022, NASA partnered up with Axiom Space to develop the new spacesuits for Artemis, as well as for astronauts on board the International Space Station (ISS). The ones that will be worn on the ISS will serve as a testbed for the upcoming Artemis 3 mission, which will land humans on the Moon no earlier than 2025.
NASA's current model of spacesuit is more than 40 years old, and it recently caused serious issues for astronauts on the ISS. In May 2022, NASA pressed pause on spacewalks outside the space station due to a series of potentially life-threatening incidents of water leaking into astronauts' helmets.
To build the first moonwalking spacesuits since Apollo, NASA has chosen to rely on a private partner. "In this new approach to working with commercial partners, NASA is enabling a growing space economy," the space agency wrote in a statement.
Founded in 2016, Axiom Space is an emerging private space venture that has chartered its own private missions to the ISS. But the pressure is on for the company to deliver on these spacesuits and there isn't exactly a lot of time for the spacesuit prototypes to be designed, built, tested, and finalized for the upcoming journey to the Moon.
In 2021, NASA's Office of Inspector General (OIG) released a report stating that Artemis' first Moon landing likely won't happen on schedule due to delays in delivering the new spacesuits. The report found that NASA faces "significant challenges" in achieving its goal of producing a pair of mission-ready xEMUs by November 2024. At the time, the suits were 20 months behind schedule due to lack of funding, technical challenges, and disruptions caused by the covid-19 pandemic. NASA had already spent $420 million in developing the spacesuits and was still not close to having a finished product, according to the OIG.
The Artemis 3 Moon landing is also pending the debut of SpaceX's Starship megarocket, which NASA has contracted to land its astronauts on the Moon. SpaceX is still waiting on a launch license for Starship's first orbital test flight, which a company official recently stated could happen this month. But we're not holding our breath.
The next generation Moon suits, while drawing from previous designs of lunar outfits, will be equipped with more advanced features. In an interview with Gizmodo in October 2020, NASA's EVA office manager Chris Hanses explained that the new suits are designed to be "safer and have fewer catastrophic failure modes than any of its predecessors," with "more complex avionics [electronics] than the Apollo suits." Since the Artemis astronauts are going to land on the Moon's south pole, which has colder shadowed regions, the suits are being designed to withstand a wide range of temperatures.
We're excited to see what the new moonwalking suits will look like as they are poised to be a part of history and an elevated version of the past.
More: Spacesuits, ranked.