When it's built, NASA's new Space Launch System will hopefully take us to Mars and deep space. But there may be delays aside from the hardware: The system's special new launch software is a year behind schedule and 77 percent above its 2012 budget.
ABC News reports that NASA's inspector general has carried out an audit to establish how the software project was developing. It showed that the software is expected to be finished by fall 2017—when it was originally scheduled for completion this summer. The total cost of development is now expected to reach at least $207 million.
The software, which is being developed in-house by NASA, will be used to control and monitor all the systems at launch. But the delays mean that new features, such as "the ability to automatically detect the root cause of specific equipment and system failures," are being skipped over in the current build.
The audit suggested that the space agency may be better off simply adopting commercial software that's used by the likes of SpaceX. But the report notes that there's a"reluctance to change course [that] reflects a cultural legacy at NASA of over-optimism and over-promising what the agency can achieve in a specific timeframe."
The Space Launch System is planned to make its first flight with an unmanned Orion module in 2018.
G/O Media may get a commission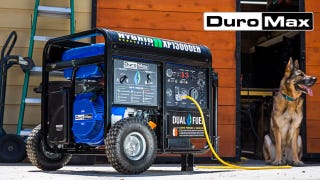 Black Friday Sale
DuroMax Generator Sale