Fully armed NATO and Russian aircraft keep having encounters as the tension between both powers increase. These photos were taken yesterday by RAF Eurofighters over Baltic airspace. They intercepted four SU-27 Flanker fighters and a Tupolev Tu22 Backfire bombers, among others.
The Typhoon aircraft, from 3 (Fighter) Squadron, were launched after four separate groups of aircraft were detected by NATO air defences in international airspace near to the Baltic States.
Once airborne, the British jets identified the aircraft as a Russian Tupolev Tu22 'Backfire' bomber, four Sukhoi Su27 'Flanker' fighters, one Beriev A50 'Mainstay' early warning aircraft and an Antonov An26 'Curl' transport aircraft who appeared to be carrying out a variety of routine training. The Russian aircraft were monitored by the RAF Typhoons and escorted on their way.
G/O Media may get a commission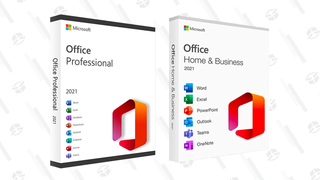 89% off
Microsoft Office Professional 2021 Lifetime License
A RAF Typhoon fighter with two Russian SU-27 Flankers on the forefront.
A fully armed Tupolev Tu22 Backfire bomber. Is that a cruise missile on its belly?
A Russian Beriev A50 'Mainstay' airborne early warning and control aircraft.
---
SPLOID is a new blog about awesome stuff. Join us on Facebook