The future of direct-to-streaming entertainment seems inexplicably tied up with controversy. Our first taste came from The Interview (lol remember that?) after Sony's massive hack in 2014. Now Netflix wants to stream two new films, starring Zack Galifianakis, Kristen Wiig, and Kate Beckinsale, before they come to theaters. The only problem is that it could financially ruin the studio that made them.
Relativity Media had a tough 2015, leading it to declaring chapter 11 bankruptcy in July. The studio previously promised Netflix two films, The Disappointments Room and Masterminds, which were supposed to be released in late 2015 and then streamed on Netflix last month. But because of Relativity's sticky financial situation, the releases were postponed.
After a long legal back and forth, Relativity Media was allowed to cut some debt and restructure, with the release of these two films being a key component of the plan for new life. But Netflix isn't having it, saying that the dates in the contracts are "clear and unambiguous," according to The Wall Street Journal. Relativity Media response was one of surprise, per WSJ:
Lawyers for Relativity say they were led to believe Netflix would sign contract amendments extending the dates on which the films could be streamed. The studio is asking a bankruptcy judge to step in to force Netflix to agree to a deal that would prevent a premature debut.
Netflix's opposition is particularly perilous for Relativity because the massive amounts of cash it gets from streaming is basically the reason why the company was able to exit bankruptcy earlier this year. We reached out to Netflix, and the company said it had no further comment.
Obviously, Netflix has more skin in the game than just these two films (though it is costing the company$7.4 million to stream the pair.) With the increased conversation of direct-to-streaming entertainment, most recently with Sean Parker's Screening Room pushing studios to release films online on opening day at a pricey $50 a pop. Netflix, Hulu, and other streaming services could likewise become the platform of choice for studios in the future rather than your traditional movie theater. Netflix has also been slowly growing its own stable of films and TV shows, and relying less and less on theatrical releases. This could be another chapter in that long march to more and more Netflix-created content.
G/O Media may get a commission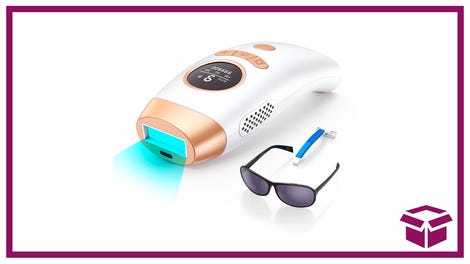 58% Off + Coupon
IPL Hair Removal Device
But pushing for that future through the courts at the possible expense of a production studio that's made hundreds of films (though one was Paul Blart: Mall Cop so take that for what you will) is not the best move. Relativity Media has even said that two films likely won't reach mythical blockbuster status. Instead, the films would signal that the ailing studio is back in the game, something that's probably better for Netflix in the long run anyway. After all, more movies means more money.
[WSJ]