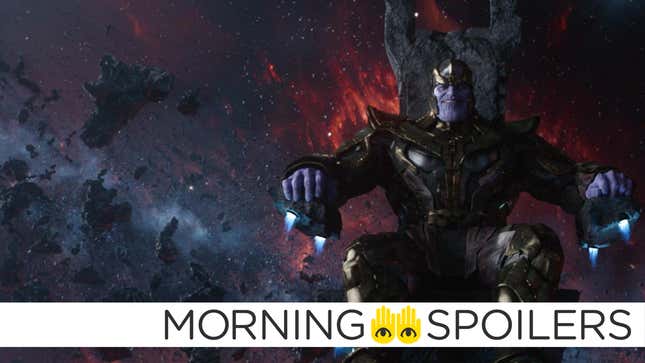 Find out what's to come on the next season of Fear the Walking Dead. Get ready for more American Horror Story. Don't expect a new Halloween movie anytime soon. Plus, new footage from Batman: Return of the Caped Crusaders, and behind the scenes of the Mad Hatter's return to Gotham. Behold, Spoilers!
Vizio's Latest TVs Go All Quantum

Avengers: Infinity War
Schmoes Know has a new report alleging that not every member of the Guardians of the Galaxy could appear in the movie—but Star-Lord definitely will, and play a significant role in bringing the Avengers together to fight off the cosmic threat of Thanos.
According to Schmoes Know, Star-Lord is definitely the first Guardian the Earth-based heroes will meet, but it's possible the rest of the team will be kept out of the action for a larger appearance in the fourth Avengers movie, hence Star-Lord's expanded role in Infinity War—but still might appear. As ever with reports like this, take it with a pinch of salt for now.
---
Intelligent Life
Jay Roach has been tasked with rewriting—and may eventually direct—the scifi/romance about a UN employee falling for a woman who might be an alien. [Variety]


---
Halloween
Blumhouse Productions head Jason Blum says the team is still in the early stages for deciding what they want to do with the franchise:
We haven't landed on an approach. We haven't landed on a filmmaker, and we haven't landed on an approach. We thought we had a filmmaker and an approach, and we don't. We're talking to a handful of people about it — all of them have different ideas. I don't believe in coming up with an idea and telling a filmmaker what to do. So we have three to five different people we're talking with, and all of them have a different idea about what it should be. And we haven't landed on a group, and as a result we haven't landed on an idea.
---
The Thinning
Here's another new trailer for Youtube's Hunger Games-esque new movie.
---
Batman: Return of the Caped Crusaders
The Joker, Riddler, Penguin, and Catwoman stage a nefarious plan in a new clip from the film (which starts at around 3:33 in the video).
---
Boo! A Madea Halloween
Here's a suitably goofy new TV spot for the movie.
---


American Horror Story
Good news! The series has now been officially renewed for a seventh season. [TV Line]
---
Fear the Walking Dead
Executive Producer Dave Erickson gives some details about where the show is going for its third season:
What we wanted to do going into Season 3 was really tell the border story. We started introducing elements north of the border since we haven't been there for quite some time, just to begin that story. I think we're going to possibly find our characters on either side who are straddling the border. We're going to introduce some new elements that are in or just outside of Tijuana in Season 3.

We'll be hopefully building to a reunion of the family. The goal for us is that the characters have changed so significantly since they were separated that their reunion will definitely not be a happy contented one.
---
Agents of SHIELD
New pictures from "Let Me Stand Next to Your Fire" have been released—you can find more at the link. [Coming Soon]


---
Gotham
Finally, here's a new featurette focusing on the arrival of the Mad Hatter on the show.
---
Additional reporting by Gordon Jackson. Banner art by Jim Cooke.