Two new Tron Legacy trailers give us the most detailed look yet at the film's story. Green Lantern has a poster worthy of a cosmic superhero. The new Superman may well be an unknown. Time for spoilers...and why not?

Tron Legacy
Two new international trailers are out, both of which feature a much clearer focus on what the plot is actually about, as opposed to previous trailers which have more showcased the film's look: [CinemaBlend]
Director John Kosinksi says he sees this film's design as a rather literal evolution from what was seen in the original Tron:
My approach was, you know, let's embrace what's great about Tron - the look, the feel, the vibe. And it's evolved like the Galapagos Islands, you know, for 20 years, so we've taken all those great designs and everything and just let it evolve on its own so it's become more realistic."
For more from the creative team, including Jeff Bridges's thoughts on why modern myths help us deal with technology, check out the video below: [Underwire] Click to view

Superman Reboot
Inside sources claim Warner Bros. isn't necessarily looking to cast a well-known actor to take on the Man of Steel. The profile that's reportedly emerging favors someone 28 to 32 years old and is either completely unknown or whose only major work has been on TV. Certainly, Christopher Reeve and Brandon Routh were both unknowns when they got the part, so this seems like a sensible enough prediction. Still, consider it unconfirmed for now. [Deadline]
G/O Media may get a commission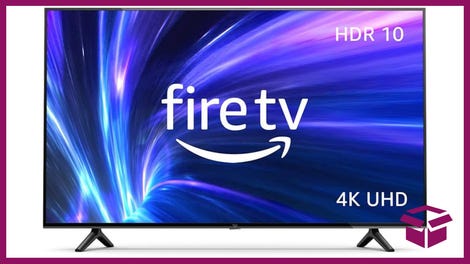 42% Off
Amazon Fire TV 50" 4K Smart TV
Green Lantern
Here's an absolutely incredible new poster, along with an also fairly awesome new image of Hal Jordan, Carol Ferris, and the ring: [IGN]

Men in Black 3
A bunch of new set photos are out, which among other things show Emma Thompson as new MiB head Agent O and Nicole Scherzinger as an oddly-coiffed villain. Also, apparently Will Smith got covered with slime on his very first day of shooting. [Daily Mail and Splash News Online]

The Hobbit
Lord of the Rings composer Howard Shore has confirmed he'll be spending the next three years working on the score for Peter Jackson's Middle Earth follow-ups. [The Province]
The Wolverine
It seems as though this has been unofficially official for ages, but now it's officially official: Darren Aronofsky is really, definitely directing this movie. [IGN]
Abraham Lincoln Vampire Hunter
Tom Hardy is reportedly out of the running to play the title character in the adaptation of Seth Grahame-Smith's book due to his Dark Knight Rises commitments. Here's the character breakdown for Lincoln, which reveals what the filmmakers are looking for:
Age : Late 20s to late 30s.
PLEASE NOTE THE SAME ACTOR WILL PLAY ABRAHAM AS HE AGES FROM 20 to 56.
At 20, not yet the iconic image we associate with our 16th President, this version of Abe is tall, boyish, and occasionally impulsive; a kind, intelligent, well-spoken and good-hearted man, if a bit awkward at social events and around the ladies. He's also an extremely skilled fighter. Abe works as a shopkeeper, lawyer and burgeoning political figure by day. He woos Mary Todd and debates Stephen Douglas, preparing for an eventual run for the Presidency. Seen also in middle age, extremely tall with a lined face and a trademark beard and stovepipe hat, he is a thoughtful, extraordinary orator. Honest Abe wins the White House in the midst of growing strife between the North and South. Despite his advanced age, Mr. Lincoln remains an innovative and fearsome fighter...
Fringe
A couple casting calls have gone out for episode 13:
[MONA] Late 20s to early 30s; quirky, smart and adorable. She works in a lab. Possibly recurring. Guest Star. Please submit all races and ethnicities.

[REIKO] Japanese. 35. She's beautiful, confident, smart and worldly. Possibly recurring. Guest Star.
The Walking Dead
Another sneak peek for episode 4, "Vatos": [SpoilerTV]
Chuck
Here's a photo of Chuck enjoying what is presumably Thanksgiving dinner in episode 10, "Chuck vs. the Leftovers." [ChuckTV]

Supernatural
Here's another promo and sneak peek for the next episode, "Clap Your Hands if You Believe": [SpoilerTV]
Misfits
Promo photos are out for episode 3: [Daemon's TV]

Eureka
Some details have emerged on a trio of the season 4.5 guest stars. Wallace Shawn will play Warren Hughes, a relationship auditor who has to make sure Jack and Allison's new relationship is work appropriate. Aaron Douglas, Battlestar Galactica's Chief Tyrol, is playing Ray, "the exuberant leader of 'Galaxy Camp.'" Finally, Kids in the Hall member Dave Foley will appear in the finale as Drew Plotkin, a former weapons designer turned eco-scientist who might be responsible for the town's latest wave of destruction. [Daemon's TV]
Stargate Universe
A ton of promo photos are out for episode 9, "Visitation": [SpoilerTV]

V
A bunch more set photos are out: [Nigel Horsley's Flickr]

Smallville
We're still half a season away from those damn tights, but according to executive producer Brian Peterson, Clark will ask Lois to marry him in the next three episodes. Fellow executive producer Kelly Souders explains:
"The ring will come out of the pocket. It's something that we've always wanted to do. Obviously we work really closely with DC Comics and they have been fantastic this year about letting us kind of push things because it's the end and it's now or never. We always wanted to get the Lois and Clark relationship to that next level in the 'Smallville' story."
They can't say whether the show will actually get to the wedding, however. [Zap2It]
In another interview, Brian Peterson explains why they brought Aquaman back:
Well, we've been wanting to bring Aquaman back for a while, and we just found that the right way to bring him back was with his wife Mera, because it really shines a light on Clark's relationship with Lois. It makes the story very much about Clark. But it's not only that. A.C. comes back at a time when he has really opposing views to Clark's as to how to handle the encroaching government witch hunt and censorship.
There are a ton more little details about the future of the show at the link. [TVGuide]
Here's a sneak peek at episode 9, "Patriot": [SpoilerTV] Click to view

Additional reporting by Katharine Trendacosta and Charlie Jane Anders.