The cast of Cowboys And Aliens keeps getting better. Stars talk Thor, Jonah Hex, Transformers 3, Fringe and Eureka. There are details on the Wachowskis' war movie. New Airbender, Cape, Undercovers and Chuck pics. Plus Supernatural, Doctor Who and Lost.

Cowboys and Aliens:
The cast of Jon Favreau's alien-fighting Western got fleshed out. There Will Be Blood's Paul Dano will play one of the cowboys, and so will Clancy Brown. Keith Carradine will play the town sheriff. They join a cast that already includes Daniel Craig, Olivia Wilde, Harrison Ford, Sam Rockwell and Noah Ringer. [Deadline]
Thor:
Chris Hemsworth talks about creating this character:
We just kept trying to humanize it all, and keep it very real. Look into all the research about the comic books that we could, but also bring it back to 'Who is this guy as a person, and what's his relationship with people in the individual scenes?' And working with someone like [director] Kenneth Branagh, who has all those bases covered and has so many ideas, it was a hell of a time!
G/O Media may get a commission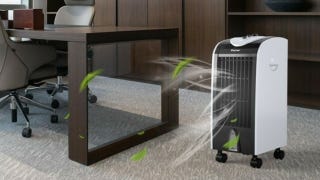 Save $10
Evaporative Portable Air Conditioner Cooler with Filter Knob
[IGN]
The Wachowskis' Untitled War Film:
Some new details about this much-rumored project. Apparently the script is circulating among financiers, as the Wachowskis seek financing to direct this "hard R"-rated film. It's about a romance between an U.S. soldier and an Iraqi soldier, and it starts in the near future and then goes back in time to the height of the Iraq war. [Deadline]
Transformers 3:
Shia LaBeouf reiterates that this movie will be the biggest film they've ever tried to make. Watching the way he stiffens when the reporter says he wants to ask about Shia's new addiction, you can't help feeling sorry for the guy. [TLAMB]

The Last Airbender:
Awesomely fiery new posters! [IGN]


And here's some zoomy new behind-the-scenes footage:

Jonah Hex:
These new posters have a weirdly space-age background. [Cinemablend]


Will Arnett says his character isn't humorous, except maybe as a result of his lack of humor:
The character I play – he's kind of ... if there's any kind of corporate figure, it would be him. He represents the new U.S. government, the Union, the winning side in the Civil War. He's really kind of an outsider in this environment, and he's been sent from Washington with very clear orders to take care of this job, and to get Hex to do some stuff for him. So he's a pretty humorless guy. If there is any humor, it comes out of the fact that he's pretty humorless.
Josh Brolin says Megan Fox's character is surrounded by toothless whores, and she's the most beautiful and yet the most broken. And he seems to be unable to talk about this film without using the term "absurd." [Comic Book Resources]
John Malkovich explains his character:
Turnbull was a Southern plantation owner and very wealthy and very powerful. He feels Jonah has caused his son to be killed in a way, so there's a big sort of revenge factor there. Turnbull also leads a group of kind of marauders, former Confederate soldiers. Eventually he hopes to overthrow the government...my character's not so much involved with [the supernatural]. Maybe a tiny bit. At a point in the story, Hex has kind of aberrations, and I appear very briefly as one of those, and we sort of work that out together.
The Twilight Saga: Eclipse:
The stars open up and share their feelings, backstage at Oprah.

Undercovers:
Am I the only one who's ridiculously excited about this J.J. Abrams Moonlighting/Alias mash-up? Here are some pics. [BSC Review]


Doctor Who:
She probably has fairly little influence on the writing process, apart from her own character, but Karen Gillan really wants the Doctor to meet the Loch Ness Monster — even though he already did. [Daily Record]
A second trailer for "The Hungry Earth" includes a better glimpse at the new Silurians, whom I'm on the fence about. [BlogtorWho]

The Cape:
Here are some new promo pics, including your first look at Summer Glau looking, well, like Summer Glau. [CapeSite]


Summer Glau says that the titular cop-turned-superhero "really works for it. He has to earn it and it's all real. [Shooting the pilot] was beautiful, amazing, really strong cast and I love the concept because I feel like it's a really solid drama with elements of fun in it." And she makes it sound really similar to Heroes, even down to the carnival. "It's kind of dark and when he falls in with this group of carnival fiends they bring him a whole other element that is really fun and I think is going to lighten up the atmosphere." She adds that "I'm sort of his sidekick." [Zap2It]
Supernatural:
I haven't stopped rewatching the season finale and hyperventilating. Jim Beaver tweets that he'll be back for season six. "Ease your mind." Easy for him to say — what about Sam? [Twitter]
Fringe:
We'll finally learn more about Astrid's background and her story and so on — but it'll be the other Astrid, the alt-Astrid, says Jasika Nicole.
I've only shot a little bit of this other Astrid stuff because we only get to see her briefly in the season finale, but it's enough to know that she is very, very different. So I'm super excited to learn more about her, and it's going to be really funny if people connect to the alternate Astrid more so to the Astrid that we've already had [laughs]. And that's very likely to happen because I think she's going to be a key player into what ends up happening, of course I can't give too much away, but there's this big thing that happens at the very end of the season finale that's a little bit mind-blowing and you realize how integral the people in the alternate universe are going to be to this universe to right the wrongs that have been done.
More at the link. [Spin Off Online]
Leonard Nimoy talks about his character and the season finale. [Fringe Television]

Eureka:
Yay this show is coming back! The stars say this is the best season yet, and they've turned the concept of the show on its ear somehow, in a really clever way. Things are changing a lot. Jack and Allison are going back to having back-and-forth banter and fighting their feelings for each other again, but with three seasons of history behind it. [Sci Fi Wire]
V:
Your first sneak peek at tomorrow night's season finale. [The V Files]

Chuck:
Here are some promo pics for the season finale, "Chuck Vs. The Ring, Part 2". [SpoilerTV]


True Blood:
Kathie Huddleston interviewed Denis O'Hare, who plays the Vampire King of Mississippi, for Sci Fi Magazine, and she posted a chunk of the interview on her blog. O'Hare says the character is much fleshed out from the minor character he is in the books, and he's a series regular this year. And he's much, much older than Godric — in fact, the writers wrote in that he's 3,000 years old. And he lives in his own world, centered around his mansion in Jackson, MS, where he lives with Talbot his boyfriend of 700 years. Tons more at the link. [ScifiKathie]
Lost:
The show is moving forward at a faster pace, and tomorrow night's episode is a huge one in both universes, and Ben gets a black eye. Also, Michael Emerson says he's extremely satisfied with how Ben ends up in the final episode. Adds Jorge Garcia,
If we satisfied everyone, it will be a shock. I was extremely satisfied when I read the finale. I cried reading it. There was moment in the finale that kinda touched me, and everyone in the room felt the air change and there were tears streaming down my face. I think it'll make people cry.
And for the umpteenth time, no, there won't be a movie or any sequel. [E! Online]
As you might have gathered, Michael Emerson, Matthew Fox, Jorge Garcia, Josh Holloway, Evangeline Lilly and Terry O'Quinn play a huge role in the show's final moments, and they're all soaking wet on a cliff. [Time]
We already ran a ton of spoilers from tomorrow night's episode, after it aired at a public event, but now there's a detailed synopsis at the link. Seriously detailed. Click only if you want a blow-by-blow. [SpoilersLost]
And Mark Pellegrino says we'll find out tomorrow night who's the new Jacob. (But you already know if you clicked the link above or read morning spoilers the other day.) [TV Guide]
Tomorrow night's episode is a strong outing that sets up the finale really well — and it has some of the humor that's been missing from the show lately. [Doc Arzt]
Nestor Carbonell and Henry Ian Cusick are both in the first ten acts of the series finale, but only Cusick is in the 11th act. But Cusick says there may be a secret scene in that 11th act that he's not in, where crucial stuff happens. [HitFix]
The final official Lost podcast is online, and if you want to hear Damon and Carlton defend "Across The Sea" from the haters, it's here. Among other things, they say this is what answers look like on Lost, and that woman's bad parenting is responsible for the crash of Oceanic 815 and everything else that happened. And what you saw of the heart of the island will be important for the final episodes. [Lyly Ford]
Additional reporting by Kelly Faircloth.