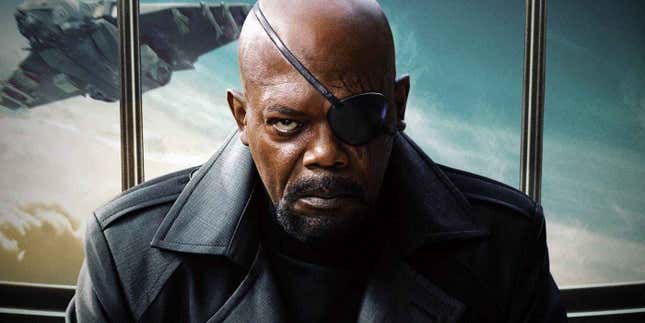 We're about to learn a whole bunch more about one of the most mysterious men in the Marvel Cinematic Universe.
Behind Marvel's New Superhero: Interview with Kevin Feige
Variety reports that Samuel L. Jackson will return to play Nick Fury in an upcoming Disney+ series produced by Marvel Studios. Kyle Bradstreet (Mr. Robot) will write and produce.
Fury's presence in the MCU has been crucial but sporadic. He'll pop up in one movie, play a big role in another, and then not show up for a few. Recently, we saw some of his origins in Captain Marvel and, when we last saw him, he was flying into space on a Skrull ship at the end of Spider-Man: Far From Home. So while there's no news what or when the show will be about, it could almost be anything. A space show, a flashback show, who knows.
Another mystery is when this show could happen along with all of the other Disney+ shows Marvel has in development. Obviously, WandaVision is coming up first, The Falcon and Winter Solider after that. Loki is reportedly filming at the moment. She-Hulk and Ms. Marvel have begun staffing up, plus there's Hawkeye and Moon Knight. That's a lot of things happening all at once. But, if we know anything about the former leader of SHIELD Nick Fury, he sure can bring a group of heroes together.
---
For more, make sure you're following us on our Instagram @io9dotcom.