Just a month after announcing the pricey V3 interchangeable-lens camera, Nikon global just pushed out info about a more compact, and we're assuming more affordable, version of the mirrorless camera. The Nikon 1 J4 is ultra-fast and loaded with beginner-friendly features.
The J4 follows the tradition of the Nikon 1 line before it. Where the Nikon 1 V3 was the top-of-the-line replacement V2, the J4 is the successor to the midrange J3.
According to the specs listed on Nikon's Japanese website, the J4 appears to have many of the same guts the V3 stuffed in a smaller body. It's got 18.4 megapixel 1-inch (CX format) sensor, with higher resolution than the 14.3 megapixel imager on the J3. Like the V3, it's been upgraded to the latest Expeed 4A processing engine, so it's got with quick hybrid autofocus and a crazy continuous shooting speeds of up to 20 frames per second. The J4 shoots 1920 x 1080 video at 60 frames per second, with 120 fps possible if you're willing to scale your image resolution back to 1280 x 720.
The camera has some new hardware additions including built-in Wi-Fi. Nikon is also switching the recording media format of the J-series to microSD cards, even though the photography standard remains regular SD.
Specs and hardware have always been secondary to features on Nikon 1 cameras and the J4, like the V3, continues this trend. Where compact, interchangeable-lens competitors like Sony and Olympus have focused their energy on larger sensor formats with better image quality, Nikon has opted to use a smaller format, allowing it to use extra processing cycles for impressive features. These include motion snapshot, which records a 1.6 seconds of super slow-mo footage that's packaged it into an easily consumable file; and best moment capture, which fires the shutter (digitally) at very high speed, letting you chose the best frame after your kid runs past you in the soccer game. Pros and snobs might be offended by these modes, but realistically, they might be attractive for a lot of amateurs.
G/O Media may get a commission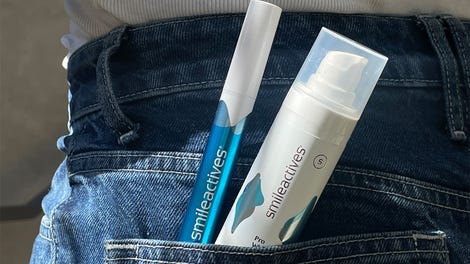 58% off
Whitening Powerhouse Pen & Gel Duo
The Japanese packaging of the camera will ship with a 10-30mm zoom lens. There's no suggested price for any markets yet, and according to our contacts, there's no official word on US availability. Expect something considerably cheaper than the V3, somewhere in the $600-$800 range with the kit lens ,when—and if—it hits our continent. [Nikon Global and Nikon Japan]