If you're gonna zoom, ZOOM, goes an old saying I just made up, and Nikon today is heeding those words: the CoolPix P80 point-and-shoot has an 18X optical zoom lens—that's a 35mm equivalent of 27-486mm. Along with that, it's got full P, A, S and M modes, optical vibration reduction and up to 6400 ISO at lower resolutions, so it's all but guaranteed to let you crawl up a fly's ass in midair. Compared to the budget minded full-manual CoolPix P60, the P80 has a few incremental improvements: a 10-megapixel CCD, up from the P60's 8 megapixels, a 2.7" LCD, up from 2.5", oh and a $400 price tag, up from $230. Helllloooo profit margin! Press release after the gallery.
G/O Media may get a commission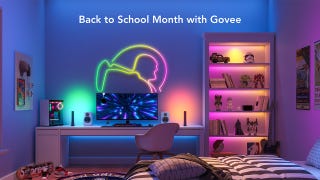 Back to School
Back to School Month with Govee Sale
NIKON "ZOOMS" IN ON PERFORMANCE WITH THE NEW COOLPIX P80, AN 18X ZOOM COMPACT CAMERA

MELVILLE, NY (April 10, 2008) - Nikon Inc. is pleased to announce the COOLPIX P80, a high-performance compact camera built to satisfy the needs of camera enthusiasts and family photographers alike. The P80 harmoniously integrates a 10.1 megapixel CCD image sensor with Nikon's innovative EXPEED digital image processing concept and an 18x optical Zoom-NIKKOR lens designed with the compact and comfortable styling of the Nikon COOLPIX brand.

"The COOLPIX P80 addresses a need from consumers for an ultra-zoom compact camera that offers unrivaled Nikon performance and clarity," said Bill Giordano, General Manager Marketing, COOLPIX for Nikon Inc. "Nikon is proud to continue delivering the highest quality imaging products for photo enthusiasts and aspiring photographers with a broad range of creative control options and superior imaging ability."

Packing the power of 10.1 megapixels, the P80 captures fine detail with the creative freedom to crop and edit. The P80 features Nikon's legendary NIKKOR optics, ensuring quality images even while at a distance to subjects. The P80's 18x Zoom-NIKKOR lens covers focal lengths from 27-486mm (35mm format equivalent). To ensure steady shots while utilizing the camera's versatile zoom capabilities, the COOLPIX P80 is equipped with Optical Vibration Reduction (VR).
In line with other COOLPIX P-Series cameras, the P80 includes intuitive controls via dedicated command and mode dials, providing easy access to shooting controls and exposure mode settings. The P80 offers Programmed Auto [P], Shutter-priority Auto [S], Aperture-priority Auto [A] and Manual [M] modes granting users the ability to tap into the creativity of D-SLR functions while maintaining the simplicity of COOLPIX functionality. What's more, the P80 has the benefit of an all-new Sport Continuous Mode, allowing users to shoot as many as 30 consecutive pictures at four, six, or a quick 13 frames per second.¹

Capturing photos in lower light conditions is no problem for the P80. With a light sensitivity range up to ISO 6400², users can now create new opportunities to capture more natural-looking photos with minimal light, or fast moving subjects with unparalleled clarity.

Composing and reviewing photos is an enjoyable experience on the large, 2.7-inch LCD monitor with anti-reflection coating, wide viewing angle and 230,000 dots of high resolution. An eye level electronic viewfinder is available for quick easy viewing in challenging lighting conditions.

The P80 also offers quick access to a selection of 15 different scene-optimized and movie modes including the ability to shoot pictures in both black and white and color simultaneously. The new graphical user interface has an enhanced pop-up design allowing for more precise menu navigation and interaction.

Nikon has incorporated its user-friendly Imaging Innovations into the P80, designed to make the photo-taking process easier and more intuitive. These technologies, referred to as "Nikon In-Camera Innovations" include In-Camera Red-Eye FixTM, D-Lighting, and Face Priority AF. In-Camera Red-Eye FixTM automatically detects and corrects red eye, a common condition that occurs in flash photography. In playback mode, D-Lighting compensates for excessive back-light or insufficient flash in images. Nikon's enhanced Face-Priority AF automatically finds and focuses on one person's face or up to 12 people's faces within one frame. Face-Priority AF provides faster and sharper focus to produce clear, crisp portraits wherever the subjects are positioned in the frame.

The COOLPIX P80 comes packaged with Nikon's COOLPIX Software Suite for organizing, editing and sharing photos. It also has PictBridge support and is compatible with SD/SDHC cards. The COOLPIX P80 will be available nationwide beginning April 2008 and has an MSRP of $399.95*. For more information about the P80 and other COOLPIX cameras, please visit www.nikonusa.com.
** Manufacturers Suggested Retail Price.Actual prices are determined by Nikon Authorized dealers and are subject to change at any time.

¹At 3MP and smaller resolution.

²At 5MP or smaller resolution