I don't think we've written a single story about the S1000pj without making fun of it somehow, and now I feel bad. Yes, a projector-camera is still a patently ridiculous piece of hardware, but I'm kinda of crazy about it.
In case you missed the news, the S1000pj is an utterly unexciting point and shoot camera from Nikon, except for one minor detail: it's got a projector—like a real, don't-look-straight-into-it lamp projector—built right into its face. This is why it's funny, why it's interesting, and why we're writing about it. Moreover, it's why this camera exists in the first place: as a sort of high-profile tech demo for Nikon.
But first!
And for that matter, foremost! This is a standard point and shoot camera, with generally standard point and shoot camera specs. Nowadays, that equates to 12.1 megapixel photo resolution, a 5x lens that's 25mm equivalent on the wide end, built-in vibration reduction and SD storage. A/V connections are served by a single microUSB slot, and the rechargeable battery juices up on a separate charger.

G/O Media may get a commission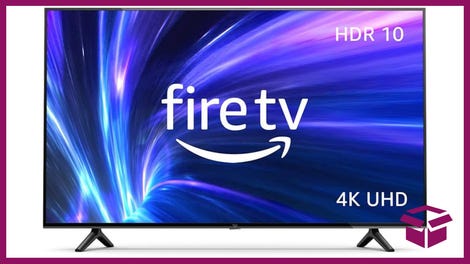 42% Off
Amazon Fire TV 50" 4K Smart TV
Taking photos on the S1000pj is extremely simple, almost to a fault: ISO and white balance controls, for example, are hidden behind two layers of menus. But for lack of a better word, the point of a point and shoot is to make taking OK pictures as easy as possible, which the S1000pj certainly does.

As you can see in the sample gallery, the shots are never spectacular, but never terrible. The Nikon rarely finds a situation where it can't return a decent shot in auto mode, be it in a dark room, a sunbleached roof or a tungsten-lit kitchen. High ISO performance was a pleasant surprise as well, since Nikon opted for the S1000pj's sensor to automatically draw down to three megapixels during ISO 6400 shooting, which keeps the results from being too spectacularly bad. In fact, ISO 800 shots are clean enough to print, while ISO 400 returns crystal-clear photos, even during longer exposures.
That said, this is still a point and shoot, and not even a very high-end one. The lens isn't spectacularly sharp, and the colors are particularly vivid. The VGA video is dull and mostly lifeless. Button-press-to-shoot time is quick, but still not quite instant. That's the biggest problem for this camera: It'd be a perfectly acceptable—even above average—point and shoot for, say, $250. It costs a good deal more than that, becauuuuuuuuuuse:
Yes, It's Got a Projector
My love affair with the S1000pj didn't start until the day after I got it. It was early evening so my room was dim, and I'd only taken a few photos with camera the day before, as I was unboxing and summarily dismissing the camera in a well-lit office. "This projector looks like ass," I believe I said. "Human ass."
But when I flicked the little projector button this time—it's a dedicated switch on top, next to the projector's manual focus slider—I was stunned. It looked fine. I shut the windows. I backed up, stretching the image to about 40 inches. Now it looked great. This dinky little projector, and hacky and ridiculous as it looks and sounds, is legitimately useful.
It's an instant wow-piece for anyone who uses it, and a great way to show off photos (and yes, videos—though sadly not external inputs) in a bind. And by bind, I mean any time you don't want to ask everyone where you are to crowd around a computer screen and awkwardly watch while you import photos. Now, you just tell them to dim the lights. That'll do fine.
Oh, But You Probably Shouldn't Buy It
It was a tough call not to recommend this outright, but I really can't, unless you've got a wad of cash burning a hole in your pocket, or don't mind paying a $150 (rough) premium for the projector. Yes, the camera itself is capable enough. And yes, the projector concept isn't nearly as ridiculous as most people make it out to be. What's so appealing about this camera is that it's nailed what will be, if not a universal feature, something we'll come to expect in a certain class of camera before too long.
But that makes this product admirable, not buyable. For the Nikon to be a worthy purchase, we'll need to see a change: Either the photographic experience itself gets a little closer to what you'd expect for $430—about how much you're going to end up spending on this now—or the camera drops significantly in price.
Nikon is charging a classic early adopter tax, and you won't just be paying for it in dollars: battery life is predictably bad when using the projector (I could easily lose a quarter of my charge just showing off a set of photos to friends). And this thing isn't particularly svelte, considering the specs. But if you know what you're getting into—and now you do—it's your call.

You will have fun with the Nikon s1000pj, even through the pangs of buyer's remorse.
The projector is surprisingly decent in low light


Chunky design


Adequate photography


Battery drains very quickly when projecting


Hefty early adopter tax