One of the only major complaints about the Nintendo Switch is that games are too big to fit on its cartridges and its internal memory is too small to handle the overflow. Now, a plan to address that issue by manufacturing larger 64 GB game cartridges has been delayed until 2019, running the risk of pissing off third-party developers.
The Switch is a bonafide success. With 10 million units sold, it's on track to outsell the Wii U's entire lifetime just in its first year. On top of a neat gimmick and a ton of great Nintendo games, it's also been appealing to third-party developers who largely ignored the Wii U. But one issue has been that the cartridges its games come on have a maximum capacity of 32 GB. For data-heavy games that exceed that size, like the reissues of Doom and L.A. Noire, physical releases still require a download of additional data. And once the Switch's included memory is full, you have to upgrade to expensive external microSD memory. Since developers rely on Nintendo to supply the game cards, it's up to Nintendo to fix this issue. The plan was to start manufacturing the bigger cards in 2018, in time for incoming third-party software that's in development. But The Wall Street Journal reports that Nintendo won't be ready for another year, in order "to ensure quality."

This may seem like a small thing, but it hints at larger potential issues down the road. Nintendo keeps its first-party games tiny: Super Mario Odyssey and Splatoon 2 are both in the 2-6 GB range. But developers who are looking to put out cross-platform releases are used to having up to 50 GB of breathing room—and a lot of players expect them to fill it. This can have several repercussions. If you know that a game is going to require more downloads anyway, you might just download the whole thing instead of picking up the physical release. That disincentivizes stores from keeping it on the shelf, which also leads to fewer moms picking up those impulse buys. There are also users who prefer to buy physical releases because Nintendo's games tend to hold their resell value better than other systems. On top of all this, you have users fretting over their memory usage and having to shell out more cash for upgrades.
According to the Journal, Nintendo "said the notice disappointed some software makers, especially U.S.-based publishers that often produce data-heavy games. Those publishers may wait for the 64-gigabyte card to release those kinds of games for the Switch."

What's more, the newspaper reports that the Switch's hardware might not even be up to handling these heavier games, one source said that the delay was prompted in part "after some Switch owners on social media cited initial problems with Switch hardware and software."
G/O Media may get a commission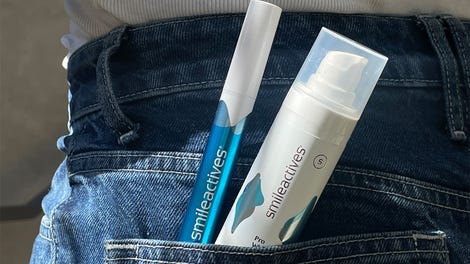 58% off
Whitening Powerhouse Pen & Gel Duo
As long as Nintendo keeps growing that already substantial user base, developers will want in, but to keep up sales over the coming years it's going to have to be able to deal with games getting bigger and better. And it absolutely must avoid the horrible working relationship it had with third-parties in the disastrous Wii U-era.