Kris Kuksi creates ornate, beautiful sculptures that reveal more and more fantastical details the longer you stare at them. It's easy to see why Guillermo del Toro says "Kuksi manages to evoke, at once, a sanctum and a mausoleum for our suffocated spirit."
We've featured Kuksi's artwork before, but his latest works are just too mind-boggling not to share.
The above sculpture was photographed by Ginger for Haha Magazine, who writes: "As I lay on the floor to shoot pics of the scenes going on underneath this sculpture the realization washes over me that trying to consume the sheer level of detail in these intricate mini mythological universes Kuksi creates in one viewing might cause tiny explosions in your brain." Here's one more of her pictures, showcasing the lower half Kuksi's fantastical artwork — tons more at the link:
G/O Media may get a commission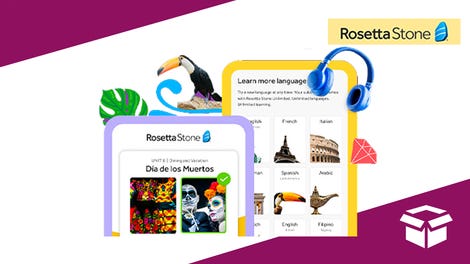 Extra 20% off
Rosetta Stone Lifetime Subscription - All Languages
And here's another one of Kuksi's pieces, "Der Ubermensch of the Post-Post World Calamity Variety," as seen in ArtSlant:
The article in ArtSlant includes some pretty fascinating details about Kuksi's process:
Kuksi's sculptures begin as scrupulously balanced, simple, geometric compositions, which are then overpopulated, layer by layer, to create a kind of beautiful mess. The foundation layer is generally left in its metallic rawness, while the visually and physically foregrounded bits are painted a streaky white, gold, or frosty blue. It's hard to put a name to many of the objects found in these sculptures, short of saying that they're serious—brassy wheels, metal spokes, and guns, guns, guns. "Armature" is the mot juste here, since all Kuksi's characters seem be packing heat.
Her'es one more piece that was featured in the ArtSlant article, "Churchtank Type 13 (Retired)":
And here's one piece that was featured on Kuksi's Facebook page:
Check out tons more of Kuksi's art at Facebook and Kuksi's own website.