We humans are a loud group of primates, with the constant clanging and droning of our machines emanating from our cities and towns. All this racket may have permanent and insidious effects on wildlife, including throwing a wet blanket on cricket sex, according to new research.

Scientists have recently discovered that noise pollution is disruptive enough to severely stress out birds, and to even fatally distract fish. Unlike other forms of pollution, though, noise immediately dissipates if the source is removed, theoretically freeing animals of their stress. But what if an animal grew up in a noisy environment? How would that influence its interaction with the world, especially if it needed to use sounds and hearing to reproduce?
Seeking answers, biologists at the University of Denver turned to an animal perhaps as incessantly chatty as our own species—the cricket Teleogryllus oceanicus, found both in busy urban areas and serene wilds in Australia and many Pacific islands. Mating in the species kicks off with males staying still and chirping out into the ether, hoping to attract a female to their location. Researchers raised the insects under varying types of noise pollution to see if the noise had lasting hearing impacts that screwed with the crickets' mojo.
Their results, published this week in the journal Biology Letters, suggest that yes, our constant noise is very much a big damn problem for crickets.
The research team raised juvenile, female crickets under three different noise conditions in the lab: silence, and two different types of recorded traffic noise, one including sounds that had frequencies overlapping with cricket chirping ("masking" noise), and one that didn't ("non-masking" noise). Once the crickets were adults, the researchers ran trials to test how the lady crickets responded to chirping. They took female crickets and put them in a testing enclosure where one speaker was playing one of the three noise types heard during rearing, and the other was broadcasting the serenading of a male cricket. Researchers recorded how long it took the females to start moving, and how long it took them to find their simulated Romeo.
G/O Media may get a commission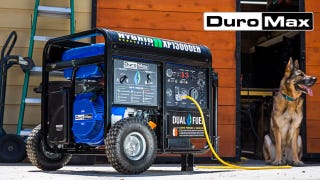 Black Friday Sale
DuroMax Generator Sale
Crickets raised under "masking" noise had the hardest time finding mates, regardless of what noise played during testing. These females took three times longer than females raised without traffic noise to simply react and start searching for the chirping location. Once on the move, they took more than 80 percent longer to actually reach the speaker's location. It's as if the females could hardly hear the male.

Why early-life exposure to "masking" noise has this effect is unknown. It's possible young crickets "learn" what to listen for from hearing the chirping of adults as they mature, and that being inundated with noise pollution blocking that opportunity hobbles their ability to recognize the flirtations of mates later on.
This, of course, is a single study focusing on just one type of cricket and anthropogenic noises that only approximate what the wild crickets' bretheren hear. Still, the results suggest there's reason for concern that noise pollution may have a ripple effect in the long-term survival of insects that use acoustic communication in courtship. While some animals seem to be able to modify their song to be more out of sync with noise pollution frequencies, for crickets, which can't actively modulate the pitch of their chirping, this would have to happen over evolutionary timescales. That may take too long.
Jake Buehler is a Seattle area science writer with an adoration for the Tree of Life's weird, wild, and unsung—follow him on Twitter or at his blog.