Bitcoin's having a wild day. It kicked off with a strange flash crash registered by the CoinDesk tracker that momentarily caused the cryptocurrency to appear to plunge by 12 percent. Almost simultaneously, Russian President Vladimir Putin called for regulatory restrictions on digital currencies for the first time. And then, as it does in recent times, Bitcoin's price just went up.
Putin is currently in Sochi for a summit involving multiple international issues, and on Tuesday he finally addressed the future of cryptocurrencies in the eyes of Russia after months of speculation and signaling. According to Bloomberg:
"The use of cryptocurrencies bears serious risks," including money laundering, tax evasion and funding for terrorism, Putin told a meeting of top finance officials including Bank of Russia Governor Elvira Nabiullina, Finance Minister Anton Siluanov and Kremlin economic aide, Andrey Belousov, in Sochi Tuesday.

Putin called for building a "regulatory environment" based on international experience that would defend the interests of business and the state, as well as provide legal guarantees for those using the instruments. "It's also important not to put up too many barriers."
G/O Media may get a commission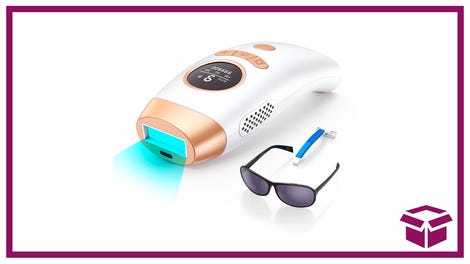 58% Off + Coupon
IPL Hair Removal Device
He also acknowledged the concerns that Russia's Central Bank has expressed. First Deputy Chairman of the Bank of Russia Sergey Shvetsov spoke at a forum in Moscow on Monday and seemed to be a bit more pessimistic on the cryptomarket than Putin. According to Interfax, Shvetsov compared what's currently happening in digital currencies to a pyramid scheme, saying: "Obviously, during the growth of the pyramid, interest in this pyramid is fueled by high profitability." In his analysis, "we see that bitcoins from the unit of account are gradually turning into an asset, which is acquired in order to obtain a high profitability in a short period of time, that is, signs of a financial pyramid." Without going deep into specifics, Shvetsov said he "will make efforts to limit the ability for at least the regulated part of the Russian market to operate with such instruments."

This doesn't mean that Russia is initiating a wide crackdown on cryptocurrencies. Just last month, Russia's Finance Minister Anton Siluanov said, "There is no sense in banning them, there is a need to regulate them." This is the position that most pragmatic governments like the US and China are taking, at least in part, because it doesn't seem like a ban would be very effective anyway.
What Russia will do is still up in the air. What makes the most sense in Russia's oligarchal system is for the government and a select group of lucky private interests to own the cryptomarket that they eventually approve. Russia has already jumped into state-sponsored bitcoin mining and in August, officials were optimistically talking about launching a "cryptorubl," Russia's own version of bitcoin.
As for that mysterious flash crash this morning, it probably doesn't have anything to do with Russia. It only occurred on the most prominent bitcoin pricing index CoinDesk, which simply functions as an average of four prominent exchanges: Bitstamp, Coinbase, itBit, and OKCoin. None of the exchanges showed the dramatic dip that CoinDesk displayed earlier today. When we reached out to CoinDesk to ask what was going on, a spokesperson simply said they "are currently investigating an earlier error" and that it "was an error with our publishing process." After opening at $4,773, bitcoin hit a high of $4,910 today, because nothing makes any sense.
[Bloomberg, Reuters, Interfax via Bleeping Computer]