If you need evidence that the California drought has severely impacted outdoor recreation in the state, look no further than Lupin Lodge — a clothing-optional resort that would no doubt prefer keeping prying eyes out of its business, and yet made headlines this week when its owners were accused of water theft.
Last year, SF Gate reports, owners Glyn Stout and Lori Kay Stout asked for permission to pipe water from a nearby creek to their Los Gatos resort. The request was denied, but evidence suggests they went ahead and did it anyway:
Between July and November, resort employees repeatedly trespassed on district property on foot and in various vehicles, authorities said.

"Evidence shows that an old fire trail was cleared, causing significant environmental damage, and numerous water lines were installed into the creek and other springs" on district property, prosecutors said.

All of the water lines ran to or delivered water to the resort's water system, authorities said.
Wildlife officials took pictures of people trespassing on district property and carrying plastic tubing, authorities said.
Late last week, the Stouts and two of their employees were brought up on charges of "felony conspiracy to commit trespassing for the purpose of injuring a property right." Lupin Lodge — which opened in the 1930s and bills itself as "California's oldest naturist resort" — isn't the first establishment to face drought-related charges, reports the Washington Post:
In February, homeowners in Modesto were fined $1,500 for allegedly siphoning water from a canal. In a scene reminiscent of the recent post apocalyptic blockbuster "Mad Max: Fury Road," water bandits in the town of North San Juan stole hundreds of gallons of "aqua cola" from a fire department tank.
G/O Media may get a commission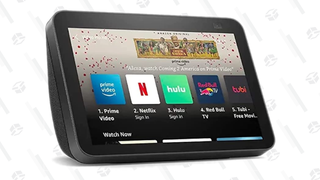 In an interview with the Post, Glyn Stout said he was "surprised" by the charges, since the allegations reach back to September 2014. But he was also confident that this legal skirmish has everything to do with water, and nothing to do with the clientele Lupin Lodge caters to.
"People come here for the privilege of being body free," Stout said. "To them it's a pleasure and a freedom. And there is a lot of people in the world who can't understand that."

Stout doesn't believe his recent problems with the law stem from anti-nudist sentiment, however.

"It's all about water here now," he said. "It really is."
Image via the Lupin Lodge YouTube channel.