New York Mayor Bill de Blasio announced a new task force Wednesday dedicated to studying the social impact of algorithms on the public.
The Automated Decision Systems Task Force will produce a report in December 2019 examining algorithms used across the public sector, making recommendations for how agencies can use them more transparently and make them more understandable for those impacted.
While the technologies of major corporations like Facebook or Google are protected under a host of proprietary and trade-secret laws, states do have authority to push for public agencies to open up more about how their algorithms work. Many public agencies rely on such systems. The NYC Fire Department, for example, has used algorithms when deciding which of the city's buildings to inspect for fire safety. Students are assigned to public schools in part because of the city's student-matching system. And, of course, the New York Police Department relies on a suite of advanced technical systems, from facial recognition to body cameras.
"As data and technology become more central to the work of city government, the algorithms we use to aid decision making must be aligned with our goals and values," Mayor de Blasio said in a statement. "The establishment of the Automated Decision Systems Task Force is an important first step towards greater transparency and equity in our use of technology."
The law creating the Task Force, first proposed by former chair of the City Council Committee on Technology, James Vacca, passed in December 2017. New York is the first state to create such a task force. It should be noted, however, that the Task Force is an interdisciplinary mix of scholars, computer scientists, and legal experts. They have not been granted enforcement power to penalize agencies that don't comply or are found to rely on outdated or biased algorithms.
G/O Media may get a commission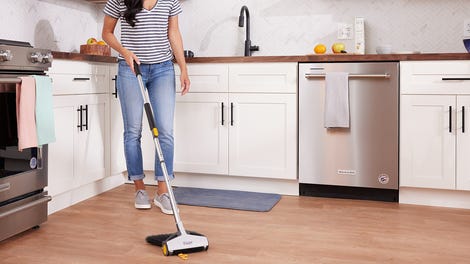 BOGO 50% Off
Flippr - BOGO 50% Off
The Task Force's co-chairs are Emily W. Newman, acting director of the Mayor's Office of Operations, and Brittny Saunders, deputy commissioner for Strategic Initiatives at the NYC Commission on Human Rights.
The remaining Task Force members include:
Solon Barocas, Assistant Professor, Cornell University

Shelby Chestnut, National Organizing and Policy Strategist, Transgender Law Center

Khalil Cumberbatch, Associate Vice President for Policy, The Fortune Society

Judith H. Germano, Esq., Founder, GermanoLaw LLC; Senior Fellow on Cybersecurity, NYU Center on Law & Security

Afaf Nasher, Esq., Executive Director, Council on American-Islamic Relations – New York

Jennifer Rodgers, Esq., Executive Director, Center for the Advancement of Public Integrity at Columbia Law School

Julie Samuels, Esq., Executive Director, Tech:NYC

Vincent Southerland, Esq., Executive Director, Center on Race, Equality, and the Law at NYU Law School

Julia Stoyanovich, Assistant Professor of Computer Science, Drexel University; Data, Responsibly

Meredith Whittaker, Co-Founder, AI Now Institute; Distinguished Research Scientist, NYU

Maya D. Wiley, Esq., Senior Vice President for Social Justice, The New School; Co-Director, Digital Equity Laboratory at The New School

Jeannette M. Wing, Avanessians Director of the Data Science Institute and Professor of Computer Science at Columbia University