A mosquito-borne virus discovered over a half century ago has been found in humans for the first time ever. And it possibly might have even caused a case of severe rash and fever in a Florida teenager in 2016. But despite the recent reveal, it's likely the germ has been making people sick for quite some time.
Named after the Florida area where it was discovered, the Keystone virus was found in mosquitos in 1964. Over the years, it's been spotted in various animal species living in humid, moist areas alongside the Southern US. And there had been some indirect evidence that it could infect humans, too—a 1972 study, for instance, found that a fifth of people in the Tampa Bay area who were tested had developed antibodies to Keystone in their body. But the virus itself had never been found in people, and it had never been linked to illness.
That changed in August 2016, when a 16-year-old boy visited an urgent care clinic in North Central Florida. He had a nasty rash and high fever. Because the Zika virus was then rapidly spreading across South America and had already been spotted in local Florida mosquitoes, the boy's lab samples were sent to the Emerging Pathogens Institute at the University of Florida. But he came up negative for Zika and other related viruses.
It would take a long time before researchers at the university finally isolated a possible culprit: the Keystone virus. "We couldn't identify what was going on," J. Glenn Morris, director of the Emerging Pathogens Institute, told NPR member station WUSF. "We screened this with all the standard approaches and it literally took a year and a half of sort of dogged laboratory work to figure out what this virus was."
The boy's case was published in the journal of Clinical Infectious Diseases.
The Keystone virus is part of the orthobunyavirus genus, whose members typically infect cattle. In particular, it belongs to the California-serogroup of orthobunyavirus. In animals, as well as humans, these California viruses are known to cause brain inflammation and occasionally death, though most suffer no symptoms. Luckily, the boy, who ultimately survived, didn't seem to develop that symptom.
G/O Media may get a commission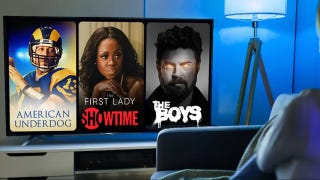 UNDER $1
99¢ Prime Video Channels
The discovery of Keystone in the boy doesn't definitively prove that it was making him sick. But given the lack of other suspects, it's the best guess we have. If that's the case, it almost certainly isn't the first time it's struck. And it won't be the last.
"All sorts of viruses are being transmitted by mosquitoes, yet we don't fully understand the rate of disease transmission," Morris said in a statement. "Additional research into the spread of vector-borne diseases will help us shine a light on the pathogens that are of greatest concern to both human and animal health.''
Keystone is thought to be mainly spread by the Aedes Atlanticus mosquito, which can also spread the West Nile virus, the most common mosquito-borne disease in the US.
[Clinical Infectious Diseases via NPR]