Olivia Munn will be Psylocke when X-Men: Apocalypse comes out later this month, but she was nearly a completely different character in Fox's comic-based movie universe: Deadpool's girlfriend Vanessa. The role was eventually played by Morena Baccarin—because Munn basically said hell no.

In an interview with American Way Magazine (which is, I swear to god, the magazine for American Airlines), Munn goes through her entire acting career, including her brush with Deadpool. The writer doesn't include Munn's actual words, but we get the gist of things:
Munn was also offered a role in a very different X-Men spin-off — that of Ryan Reynolds' girlfriend in Deadpool, which had the biggest February opening ever for an R-rated movie. Its box-office haul is inconsequential. Munn says she didn't want to be the girlfriend. Not again. She wanted to fight. To make noise. To kick butt.
To be fair to Munn, that's not an unfair assessment of the character of Vanessa in Deadpool. Every character and plot point of Deadpool is exactly what we've come to expect from origin stories. It's a very basic framework that exists in order to hang jokes on. The credits sequence makes that clear from the very beginning. On the page, Munn is absolutely right about the character.
Munn also discussed her upcoming role as Psylocke, who she's happy to play, especially because of her action scenes. The article continues:
"I said, 'Is there a fight scene?' " Munn says of her early meetings with the X-Men: Apocalypse people. Once again, the filmmakers were full of assurances. Yet Munn couldn't shake the feeling that there might be too much talking and not enough action. "The fight scene," she says with a wry smile, "could be her monologue."

For Munn, the brute strength of her character was an important issue, a make-or-break thing, and the discussions dragged on. "I thought Psylocke was always one of the most lethal characters, and I said, 'Yes, as long as you're not using her to be the eye candy. She has really powerful abilities.' And they said, 'Yes, that's an important part.' "
G/O Media may get a commission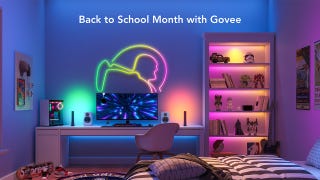 Back to School
Back to School Month with Govee Sale
Psylocke being powerful and fighting is a positive, yes. But being worried about your character talking too much? That's an unusual complaint for an actor. If nothing else, this is a hint that what we've seen of Psylocke in the trailers—fighting, fighting, and more fighting—is all we're going to get of her.