Friday night's Supernatural, "Family Matters," managed to pack a hell of a lot into one episode. Now we know the secret connection between Grampa, Sam, and the monsters. And the answer will send the brothers on a quest.
So what's the deal with Sam having no soul?
As we learned in the teaser for this week's episode, Sam's problem - the thing that makes him such a fearless monster killer - is that he's come back from Hell without a soul. Cas confirms this by jamming his burning angel hand inside Sam's guts and feeling around a little. Supernatural never shies away from a little angel-on-soulless-hunter penetration. Cas also checks out Grampa, but apparently Gramps came back from the other side with soul fully attached.
So now we know that Sam has no soul, which means that he has no emotions (except when he does), and also means that his judgment is severely impaired.
G/O Media may get a commission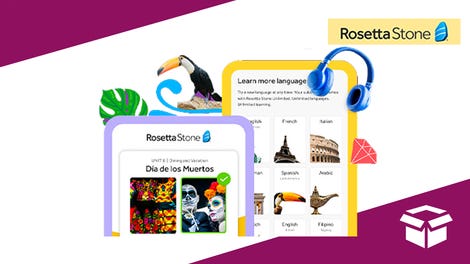 Extra 20% off
Rosetta Stone Lifetime Subscription - All Languages
That's why Dean has to give Sam the big "I'm in charge of you now" speech, which coming right after the penetration does have a little tinge of the old Wincest to it. Look, I'm sorry, but it DOES, okay? Anyway, now that we've established who the top is here, Sam goes on a mission for Dean. He pretends that he and Dean have had a parting of the ways and that he's all about wanting to help Grampa's gang out with the monster torture agenda. When Gramps says no, Sam just plants a handy GPS tracker in the monster-transport truck and the brothers are able to track Gramps and the fam back to their monster Abu Ghraib.
Dean and Gramps dick-measure over the Alpha
Before all that, though, Dean tries to join up with Gramps and the gang and play along. He goes with Sam, Gramps, and the rest of the gang on their mission to capture the Alpha Vamp (AKA the Simon cylon from Battlestar Galactica). There's a whole dick-measurey moment where Gramps is like "grunt grunt" and Dean has to say "OK I promise to let you call the shots," and Gramps says something like "grunt X-Files when you were in diapers grunt" and then everybody goes to kill the Alpha except Dean is left behind to guard the truck with THE GIRL COUSIN, which is OBVIOUSLY LAME. Even though she's the only person who seems to know how to kill vamps.
It all goes badly, and ends with Dean not wanting to be the bottom to grunty Gramps. Plus, he now has proof that the cousins are carting away the Alphas for torture. But why? What could the alphas have that Gramps would want?
Interview with the vampire
Once the brothers have tracked the GPS back to monster Abu Ghraib, they're able to find out for themselves. They watch Gramps torture the Alpha pretty ineffectually - mostly, the Alpha just laughs and plays with his fingernails while Gramps looks sweaty. So then the brothers bust in and ask the Alpha what the hell is going on. He reveals that Gramps has been torturing him and the other Alphas because he wants to know where Purgatory is.
Apparently Purgatory is where monsters go when they die, and the Alphas have special knowledge about it because they are the first of their kind (though Alpha confesses creepily that "everybody has a mother," so maybe at some point we'll see Mama Alpha Vamp). Anyway, this just makes the mystery even deeper - why the hell does Gramps want to find Purgatory?
Also, why does Dean keep having weird visions of these twins?
We're all working for the King
I'm still confused by the twin visions (did I miss something?). But now we all know what was up with Gramps. Turns out he cut a deal with Crowley - who reminds us smirkingly that he's the King of Hell now, which is more awesome than being a "punk ass crossroads demon." Crowley is the one who wants to find Purgatory because it's "Hell-adjacent property" that he wants to develop in some kind of weird demonic real estate scheme. But first he needs to find it, and he's using Gramps to do it. In fact, he's even had Christian pumped full of demon to spy on the gang's progress.
Expletive laced interjection:
What?! Parker Lewis was a demon all along? Goddamn it. I was hoping we'd get more Corin Nemec this season, due to the fact that he fucking rocks. But no - his meatsack has been destroyed. Bastards!
So Purgatory is the point
Crowley also reveals that he's kept Sam's soul on file and will hand it back if the gang leads him to Purgatory. So now the Winchesters and Gramps' gang (minus Parker Lewis DAMMIT) are all working for the King of Hell, on the road to Purgatory. At least Sam is straight on the fact that Dean is topping him, not Gramps.
Tune in next week when we're on the road to Purgatory with some skinwalkers. And we continue to wonder about those visions.