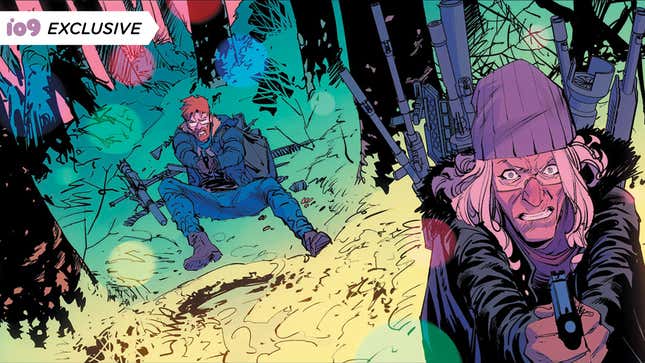 We've been enamored with Once and Future's modern twist on Arthurian fantasy ever since it kicked off and gave us a sweeping tale of magic, terror, and shitty nationalists being thwarted by grandmas with machine guns. But now the series is heading into a new chapter that's more mystical and dangerous than ever, and we've got a look inside.

Chris Pratt and Bryce Dallas Howard Nerd Out About Jurassic Park's Returning Heroes
io9's got your first exclusive look at next month's Once and Future #19, kicking off a new arc for the Boom Studios comic. Set in a retelling of British medieval folklore where the legend of King Arthur is not only very much real, but a demented spirit who's risen from the grave by occult British nationalists to enact his own dark plans, the series follows Duncan and Bridgitte McGuire, as the latter, a retired monster hunter, thrusts her grandson into a battle he could never have imagined in his life in academia. Many issues of monster slaying antics later, Duncan, Bridgitte, and their friend Rose have found themselves on the other end of a nightmare: Arthur's plan has worked, and all of Britain has found itself pulled into the dark fantastical realm of the Otherworld, filled with mythical threats that our heroes are going to need a lot more guns to deal with.
A lot. Before you get a glimpse of Duncan and Bridgitte's quest for more things to shoot monsters with below, check out two covers for Once and Future #19 below, one by series artist Dan Mora and a variant from Christian Ward!
But now, here's your first glimpse inside the issue itself, as Duncan and Bridgitte stalk through the Otherworld in an attempt to locate Gran's cache of armaments to survive the onslaught of the mystical beings that call Otherworld home (alongside the rest of modern Britain at the minute, that is). Turns out all the guns in the world can't save either of the McGuires if the denziens of the fay get their teeth on them first though...
Once and Future #19 hits comic book stores on August 25.
---
Wondering where our RSS feed went? You can pick the new up one here.