This week on television, the Peter Porker: the Spectacular Spider-Ham stories become canon. Sort of. We also get to find out what it would be like if Tony Stark ruled the world. Doctor Who does a Western episode. But most of all, Syfy is having two monster movies, back to back.
Check out clips and details from all the week's television episodes below — including a single one-minute clip that contains more scenery chewing than Brian Blessed would ever dream of unleashing. You're welcome.
Today:
Alphas (8 PM, Syfy):
This show is back after a two-week hiatus, with "Gods and Monsters."
A young Alpha exhibits dangerous mind-control skills, providing further proof of Parish's malicious intentions. Parish and Rosen then have a confrontation.
Warehouse 13 (9 PM, Syfy):
In perhaps the most unique spin on the show's "artifact of the week" format, they're creating artifact-related drugs now:
Steve, Artie, and Claudia take try to find where Brother Adrian has been hiding. Meanwhile, a powerful company executive has created a new artifact-related drug with the ability to increase people's height, so Myka and Pete must try and stop it.
---
Tuesday:
Dragons: Riders of Berk (7:30 PM, Cartoon Network):
Here's a brand new clip from this week's new installment, in which we discover a whole new species of dragon. And the biggest challenge reveals itself: coming up with a cool name!
G/O Media may get a commission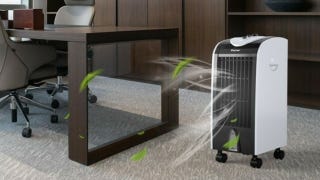 Save $10
Evaporative Portable Air Conditioner Cooler with Filter Knob
Level Up (8 PM, Cartoon Network):
On this week's episode of the "video games come to life" show:
Wyatt's dream comes true when he's recruited by his rival school, but things aren't what they appear to be after a leak reveals itself.
Also on TV tonight: At 7 PM, Cartoon Network has a brand new Amazing World of Gumball. And there's a new Mysteries at the Museum on Travel at 9 PM.
---
Wednesday:
Once again, Wednesday is a wasteland — there's literally nothing on, whatsoever. Time to catch up on Fringe, in anticipation of the show's return at the end of the month.
---
Thursday:
Wilfred (10 PM, FX):
This show is still chugging along, with Elijah Wood still bemused by his apparently sentient and human dog. This week, the dog is invited to be a ring-bearer at an important wedding: "Ryan's jealousy causes Wilfred to derail Jenna and Drew's wedding."
---
Friday:
Transformers Prime (7 PM, The Hub):
The Decepticons are going cyborg! Like, more cyborg than that woman in Transformers 2, whatever her deal was. Here's what to expect this time around:
After being granted a new start in his life, the ever stone-faced Silas begins to see the world in a new light and makes an out-of-character decision to go to Megatron in the hopes that he will be allowed to join the ranks of Decepticon.
Cyberstalker (8 PM, Lifetime Movie Network):
This TV movie of the week deserves a mention, since it's all about cyber-wrongdoing, and at the very least it's the sort of thing that would have been science fiction not too long ago. Plus the poster includes The Matrix-style rows of characters:
Cyberstalker stars Mischa Barton ("The O.C.") as Aiden Ashley, a young woman whose world is torn apart after an online stalker locates her address, follows her and murders both her parents. Thirteen years later, living and working under a new identity, Aiden's stalker is able to locate her once again by means of the most sophisticated computer technology and vows to stop anyone who gets in his way.
Touch (8 PM, Fox):
This random unaired episode from season one is getting an airing this week, although the show doesn't officially return until late October. Here's what to expect from "The Road Not Taken":
In an all-new bonus episode, Martin's car mysteriously breaks down in the town where he first became a reporter. When he begins to suspect his mentor is involved in illegal activity there, he risks severing their friendship in order to find the truth.
Phineas & Ferb (9 PM, Disney):
Here's what to expect from "When Worlds Collide":
After discovering that a strange planet is hurtling directly towards Danville, Phineas and Ferb set out to avert a disaster, while Buford looks forward to making contact with its alien race. Meanwhile, Dr. Doofenshirmtz hopes to steal the world's largest ball of twine.
You have to love that strange juxtaposition.
Gravity Falls (9:30 PM, Disney):
Yes, you really might have to tell all your friends you have to stay home and watch the Disney channel on Friday night. In "Fight Fighters," there's a rampaging video game character named Rumble McSkirmish. Oh, and Wendy officially has a boyfriend! Details:
After being challenged to a video game battle by Wendy's boyfriend Robbie, Dipper is shocked when his favorite playable fighter, Rumble McSkirmish, comes to life to defend him. But Dipper soon loses control over Rumble McSkirmish and has to find a way to stop him.
You have to love the line, "Ow! Your pixels are really sharp!".
Lost Girl (10 PM, Syfy):
It's the second season finale! In which: "Bo learns the cost of prophecy when she's forced to lead her friends into battle ahead of schedule." Are Bo and Lauren ever going to work this thing out? (Side note: Apparently you can watch just the Lauren/Bo scenes from every episode by typing "Doccubus" into YouTube.)
Also on TV tonight: A brand new My Babysitter's a Vampire on Disney at 7:30. And then at 10 PM, Nicktoons has a brand new Dragon Ball GT.
---
Saturday:
Aladdin and the Death Lamp (7 PM, Syfy):
Yes, you read that right. There's a Syfy Original Movie at 7 PM, instead of 9. But don't worry — it's a double feature. (Scroll down, to find out what movie could possibly hold its own next to Aladdin and the Death Lamp.) In Aladdin, Kandyse McClure (Dualla from Battlestar Galactica) fights an evil genie who's trying to take over the world. Check out a clip at left, in which the acting is... well, kind of astonishing. And kind of like a concentrated dose of Brian Blessed, honestly. "YOU CANNOT WIN THIS!" "LIAR!" I have watched this clip four times now, and it's still making me happy.
Doctor Who (9 PM, BBC America):
With this episode, Doctor Who joins an elite group of science fiction series that have employed the talents of Ben Browder. And this time around, Ben Browder is a cowboy with a truly impressive handlebar mustache.
The Doctor gets a Stetson (and a gun!), and finds himself the reluctant Sheriff of a Western town under siege by a relentless cyborg, who goes by the name of the Gunslinger. But who is he and what does he want? The answer seems to lie with the mysterious Kahler-Jex, an alien doctor (yes another one!) whose initial appearance is hiding a dark secret.
Pegasus Vs. Chimera (9 PM, Syfy):
Then there's the second Syfy movie of the night, starring Sebastian Roché — whom you might know as Mikael on Vampire Diaries, Balthazar on Supernatural, Thomas Jerome Newton on Fringe, or Edgar Waltz on Grimm. (But I think of him as the hot slutty scientist in Odyssey 5.) Also starring in this great movie: Rae Dawn Chong, daughter of Tommy Chong and best known for Quest for Fire and maybe also for being the love interest in Soul Man. Anyway, Pegasus fights the evil Chimera, basically.
---
Sunday:
Ultimate Spider-Man/Avengers: Earth's Mightiest Heroes (11 AM, Disney XD):
It's the canonical debut of Peter Porker, Spider-Ham! I could not be happier:
"Run Pig Run" - Loki gets revenge on Spider-Man by turning him into a pig, also known as Spider-Ham. With the help of Thor, "Peter Porker" must survive an Asgardian Boar Hunt across New York City.
"Emperor Stark" - Vision awakens after a month of repairs only to find that Iron Man and the Avengers have taken over the Earth. With the whole planet against him, Vision must get to the bottom of Tony Stark's 'utopia' and come face to face with the power of the Purple Man.
Check out a clip from Avengers.
Alien Deep With Bob Ballard (7 PM, National Geographic):
Here's the premiere of a brand new series, about exploring the bottom of the ocean. And more details:
Dr. Robert Ballard is one of the world's most renowned ocean explorers, with such amazing finds as Titanic, the Battleship Bismarck and JFK's PT1-09 to his name. But this time he's going on a journey like no other. He's setting out on an underwater odyssey down the world's tallest mountain! No, it's not Everest at 29,000 ft. It's Mauna Kea in Hawai'i. Standing 13,800 feet above sea level. This Pacific giant also reaches down another 19,700 ft. And there facing crushing depths, frigid water, and many unknown dangers Ballard dares to enter the active crater of a huge underwater volcano. Then he comes face-to-face with the extraordinary inhabitants of the bizarre deep sea world.
There are four episodes in a row on Sunday night.
Leverage (9 PM, TNT):
The two-hour summer finale. Worth mentioning because the second hour is about trying to stop terrorists launching a biological-weapon attack on Washington, DC — and that sort of storyline usually veers into science fiction territory pretty fast. Plus both hours are co-written by co-creator John Rogers.
Robot Chicken (Midnight, Adult Swim/Cartoon Network):
This week, it's the official season opener after last week's DC Comics special — and it's called "Executed by the State."
The G.I. Joe operatives face a big challenge. A look at vegetarianism; questions about the Starbucks logo; Orville Redenbacher's new role.
There's also a new episode of Black Dynamite at 11:30 PM.
Sources: Futon Critic, MSN TV, TV Guide, and various TV studio press releases.