Today, writer-director James Gunn posted the script to Guardians of the Galaxy Vol. 2 online. It's more or less what made it onto the screen, with a few tweaks here and there. One of the funniest reveals, though, is an extended version of the adolescent Groot end-credits scene.
Well, first of all, this version of the script only has four credits scenes. The final one seen in the finished film, with Stan Lee, isn't in there. And some others are slightly different too, especially the Stakar scene reuniting the original Guardians.
But, again, the highlight is the extended scene between Peter Quill and adolescent Groot. A scene Gunn says "was cut because it is funnier to read than it was to watch. It just happens that way sometimes, who knows why. I thought it was funny on set."
It's VERY funny to read too. Here are some screengrabs.
G/O Media may get a commission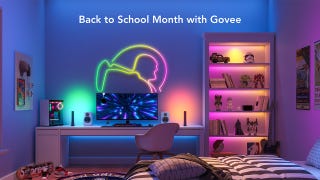 Back to School
Back to School Month with Govee Sale
That's some excellent comedic writing. But yeah, you kind of get that maybe it would have been a little long. It's still great though.
Gunn also explained a bit more about the scenes on Twitter:
All of the post-credits scenes were included all the way back in the treatment - I didn't discuss therm with Marvel beforehand, but they liked them. EXCEPT the Stakar/Ravagers scene, which I wrote after we had completed primary filming....I awoke with a vision of the Stakar Ravagers scene in my head and couldn't stop thinking about it for days. We almost didn't include the Adam Warlock scene because he was definitely not in Avengers 3 or 4 and we had no plans for him in general....And despite so many people thinking Adam will show up in Vol 3 that is something that we have never confirmed. Who knows how long it will take him to bake in that cocoon. That said, I love Adam. But the time must be right.
You can read and download Gunn's script at this link. Check out the below thread of Tweets for answers to some common questions.