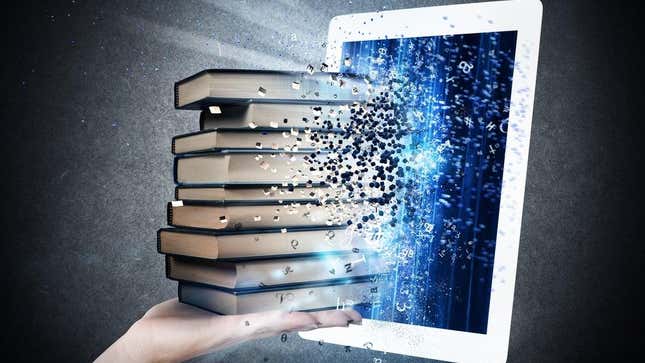 A federal judge heard oral arguments in a lawsuit filed by four major book publishers against Internet Archive for alleged copyright infringement on Monday. The lawsuit was first filed in 2020 and could be a landmark case when it comes to digital libraries and copyright. 
The First Things To Do In VR, Part 2
According to Reuters, U.S. District Judge John Koeltl seemed skeptical about whether copyright law's fair use doctrine allows Internet Archive to offer the scanned books without the publishers' permission.
The lawsuit was filed by Hatchette Book Group, John Wiley & Sons Inc., Penguin Random House, and HarperCollins Publishers, all of whom say that digitizing books without requiring payment hurts writers and the publishers who lose out on payout. The lawsuit claims Internet Archive's "actions grossly exceed legitimate library services, do violence to the Copyright Act, and constitute willful digital piracy on an industrial scale."
Lawsuit by GMG Editorial on Scribd
Internet Archive expanded its digital library during the covid-19 pandemic by scanning books it had in its possession and releasing them to the public. The move came during a time when librarians called for ways readers could access books from their homes.
HarperCollins Publisher's attorney William Adams told the Wall Street Journal, "What they're doing is supplanting what authors and publishers do with libraries and have been doing for a long time."
Internet Archive opened in 1996 to digitize newspapers and has since grown, now saying it functions like a physical library. The nonprofit began digitizing books in 2005 and according to its site, it scans 4,300 books per day in 18 locations around the world. Internet Archive boasts of spreading "universal access to all knowledge" but the publishing houses claim it is still an illegal act.
The lawsuit says although Internet Archive claims it works to promote education, that has been a long-running function and aim of publishing houses who have invested time, money, and resources into creating and distributing books, not to mention the researching and writing efforts of the author.
By scanning and distributing digital books to readers free of charge, the lawsuit claims Internet Archive is exploiting "the investments that publishers have made in their books, and it does so through a business model that is designed to free-ride on the work of others." The book publishers say this practice makes Internet Archive "nothing more than a mass copier and distributor of bootleg works."
The publishers received support for their lawsuit from the Authors Guild and the Association of American Publishers. Maria Pallante, chief executive of the association, criticized Internet Archive's practices, telling the Wall Street Journal, "If this conduct is normalized, there would be no point to the Copyright Act." She added, "It would effectively render the rights of authors, including the right to market and monetize their works, meaningless."
More than 11,000 people have signed the Battle for Libraries petition supporting Internet Archive and its "right to own books." Fight For the Future posted the petition on its Twitter account, saying in a tweet, the publishing house's "profit-motivated attack on the Internet Archive library is an attack on all libraries' rights to own and preserve digital books." The post continued, "It is also an attack on our ability to privately access uncensored books no matter where we live or what our incomes are."