I'm a little torn. In even acknowledging the OpenBook Nano, I ensure that Apple will shut down Macwind, the company selling stock MSI Wind U100s preloaded with OS X for $399. But that's not the worst of it.
Following handwritten correspondence and a voicemail, I'm fairly certain that "Macwind" is just one industrious high school kid with a nice website.
But Macwind has requested this review, and how could I possibly pass it up?
So Apple, I plead that you go easy on "Craig," the owner of Macwind, even if his practice of preloading OS X onto netbooks for resale (using publicly available tutorials, I'm sure) is pretty unquestionably a breach of one or more laws.
G/O Media may get a commission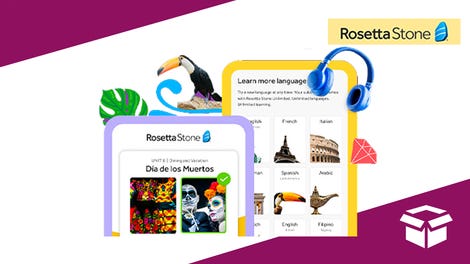 Extra 20% off
Rosetta Stone Lifetime Subscription - All Languages
His site shares your aesthetics, and the MSI Wind he's selling, loaded with a 1.6GHz atom, 1GB of RAM, 160GB hard drive and of course, OS 10.5.8, is really a pretty good product even for the $100 premium over a stock U100.
You guys should sell these things!
Because the build is solid with all the necessary drivers preloaded (some of which MSI has actually "leaked" themselves). The 1024x600 screen displays your desktop beautifully, while most of they keyboard's function keys are operational (like brightness, volume and sleep).
You can even pop in an SD card to expand the storage, just like your latest Macbooks!
But alas, we know that you know that you must shut Craig down. We won't frown upon your actions. After all, just because the kid is young doesn't excuse him from your trademarks and copyrights.
We simply ask that you go easy on him. Make him cry, sure, but pity him, too. Don't crush him with a lifetime of legal debt. A kind call from Steve Jobs, a middle manager or one of those attractive ladies in Apple PR will probably clear up any legal misunderstandings. (His number is on the site, otherwise I'll be happy to provide it.)
And maybe, while Craig's first garage-based computer business has failed him, his next one will not. [Macwind (down)]
No installs needed.


Reasonable price for the laziest among us.


Oh right, this operation can't be legal.


A kid might go to jail or something.