Welcome back to Toy Aisle, io9's regular roundup of all the wonderfully weird and wallet-draining toys we've seen floating around the internet. This week: Fantastic Beasts comes to Hot Toys, Monopoly's got something to say about kids these days, and the fluffiest answer to Super Smash Bros. possible.

---
Hot Toys Sixth-Scale Fantastic Beasts: The Crimes of Grindelwald Newt Scamander Figure
Just in time for his (apparently not all that great, sadly) sequel movie, Newt Scamander is making his way to Hot Toys with a new figure where the Fantastic Beast might just be the collar on poor Newt's coat. Aside from oodles of layers of clothing based on his look in Crimes of Grindelwald, the 1:6 scale Newt figure comes with his trusty suitcase o' beasts (which houses a family of baby Nifflers and a Bowtruckle, for good measure), his wand—can't have a Potterverse figure without a wand!—and, in a hilariously vain manner, a copy of his own book, the titular Fantastic Beasts and Where to Find Them. Crimes of Grindelwald may be in theaters soon, but poor Newt won't hit shelves until the end of 2019. [Hot Toys]
G/O Media may get a commission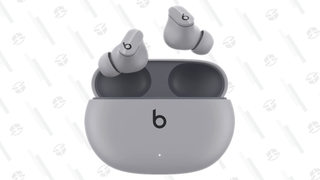 ---
Funko Rick and Morty Pickle Rick Action Figure
A welcome departure from the thousands of giant-headed, dead-eyed collectible figures the company releases every year, Funko's new Rick and Morty Pickle Rick figure is actually kind of great. On paper, an anthropomorphized pickled cucumber wearing a re-animated dead rat as an exoskeleton doesn't necessarily sound entertaining, but it somehow ended up being one of the finest 20 minutes of broadcast TV ever produced. You can pre-order the figure, which includes a bunch of accessories, for $20 from Entertainment Earth, with delivery expected sometime next month.
[h/t Comicbook.com]
---
Casio G-Shock Transformers Watch Set
Casio's musical keyboards and calculators haven't exactly stood the test of time, but the company's watches—including its G-Shock line—are still quite popular. It's been 35 years since they were first introduced, which happens to line up with the 35th anniversary of Takara Tomy's Transformers toys, so of course both companies had to capitalize on that marketing synergy. The DW-6900TF set includes a mildly Transformers-themed G-Shock watch, and an alternate version of Optimus Prime who transforms into a display for the timepiece. It will be available starting December 8, and we're assuming in limited numbers, given its $250+ price tag.
[h/t Engadget]
---
Hashtag Collectibles Nintendo Plush Puppets
If you've ever dreamed of making your own video game, but have no desire to learn how to code, Hashtag Collectibles has a new line of puppets featuring some of Nintendo's most iconic characters so you can act our your own drama in the Mushroom Kingdom, or Hyrule. They're just $20 each, except for that gigantic Piranha Plant hand puppet, which will cost you twice that—totally worth it given it looks like it can chomp someone's entire face.
[h/t Plastic and Plush]
---
Hasbro Monopoly For Millenials
Available exclusively from Walmart for $20, the latest iteration of Monopoly takes inspiration from responsibility-shirking millennials. Instead of hoarding cash and buying up properties, players are trying to collect the most experiences, which include visiting trendy places to eat, shop, or chill. Paying rent is no longer part of the game either. Players instead visit each other, which earns them even more experience points toward winning. Rich Uncle Pennybags must be rolling in his grave.
---
Star Wars Meta Mugs
There's always room for another novelty mug in your cupboard, on your desk, or left in the dishwasher—it doesn't matter where, you'll find room for this new collection featuring your favorite Star Wars torsos ready to serve up a beverage. Available for around $13 each from Firebox, the mug's handle is actually Darth Vader, C-3PO, or a Stormtrooper's arm, with graphics that go all the way around. If you're having trouble deciding, just go with the gilded Threepio mug, because it will make you feel like a king sipping from a golden chalice.
[firebox]